L
ast time
, I shared how I did our downstairs for one of my favorite seasons. I made the decision (as I was dragging everything out of their boxes) that this would be the year that I actually extend my holiday decor into the other rooms of our house. I've always hated having the downstairs so warm and cozy and full of the seasonal colors, and then the upstairs is blaaaaaaah. Insert the
sad trombone sound
here.
So I decided, in small doses, I would bring the seasons throughout the entire house. I started with our
guest bedroom
. I'm so happy to chose to go with yellow in this room. Granted, I have no idea how it's going to look come Christmas, but throughout spring, summer, and fall this hue has been perfect.
I used jute twine to tie some fall foliage to the frame. Not too much, but just a little crown at the head of the bed.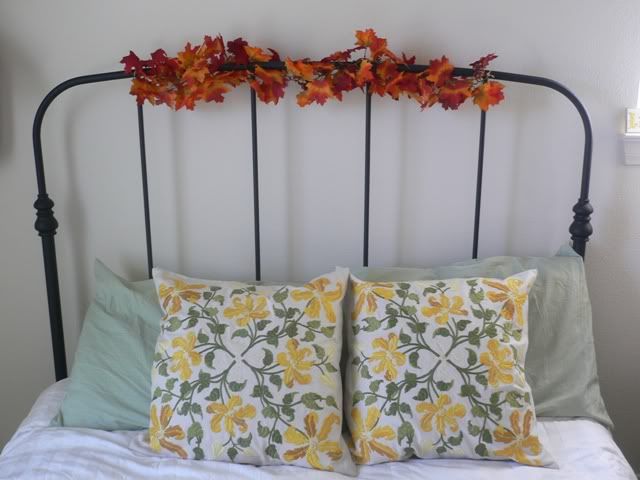 The side table also got a little autumn warmth injected into it. The lamp was remade with the addition of a burlap shade from Pottery Barn, and I switched out the (non-working) copper clock for
the basket that used to be
on our dinning room table. With a small bunch of the leaf garland and a few lemons added, not only does it feel more fall-like, but it still plays into the lemon theme this room ended up with.
Next year I might consider making a new cover for the pillow, but I'm trying to do this on as close to a $0 budget as I can. So I just pulled out this itty bitty burlap pillow I had laying around in a box. Layers and texture: isn't that what it's all about?
Last but not least, my
DIY-etsy-knock-off rack
also got a few new accessories. The straw bag is actually a beach bag that I picked up at Target's $1 Spot over the summer. I threw in some decorative twigs I had and draped a faux-fur scarf in it. I don't know how set I am on this look, but for now I think it will do! I really like that all three pieces are varying shades of light brown.
I knew the guest bathroom was going to be a little bit harder since it's done in shades of blue and white, and it has more of a coastal feel to it. But, being inspired by my white on white pumpkins from the living room, I figured hauntingly ethereal was the way to go...with just a pop of color.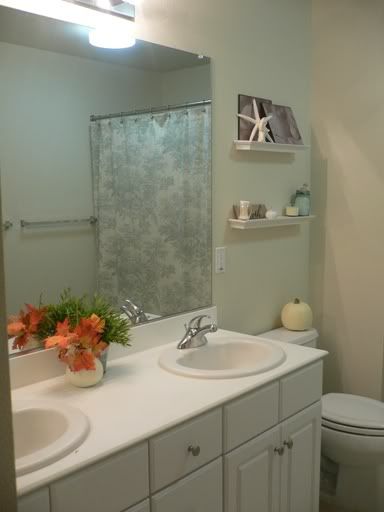 I love the round shape of this vase. It reminds me of a pumpkin.


Although it's a little early to whip out the ghosts and goblins, I love this old white figurine my grandmother gave me years ago. I found him hiding out in a little box.
The little white pumpkin actually came off a floral pick. I just gave him a shot of primer. I didn't even bother to paint him another color--I liked the dull flat look of the primer.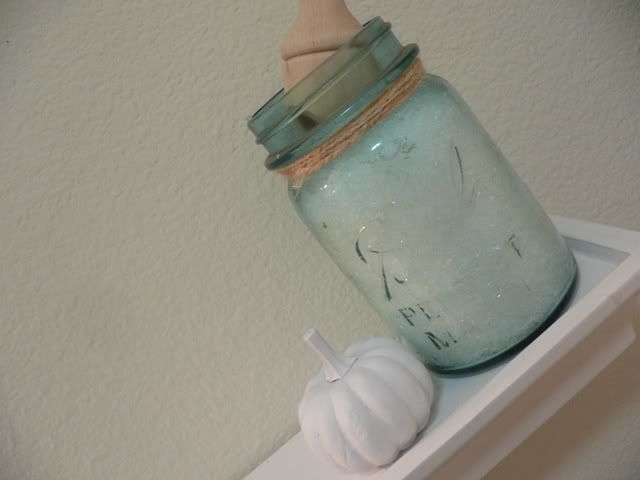 And there you have it! Two more rooms completed and $0 to do it! It's amazing how far a few springs of leaves can go and what a little spray paint can do. I'm definitely inspired to try and keep these updates as free as possible. Of course, I have three more rooms to go and I'm running out of decor! Guess a trip to the Dollar Tree is in my future! ;)
I'm linking up to:
Domestically Speaking
The DIY Show Off