S
ince it's not technically done, there will be more photos down to road--not to mention I still have to show you what I end up doing with the master
bath
room, but that's
definitely
still a ways off. Please disregard my wrinkled duvet--I'm still planning to have it dry cleaned and hopefully it'll be nice and magazine-worthy-smooth once it's done. Let's just have a few refresher photos, shall we?
The
very
before, in 29 Palms. So. Sad.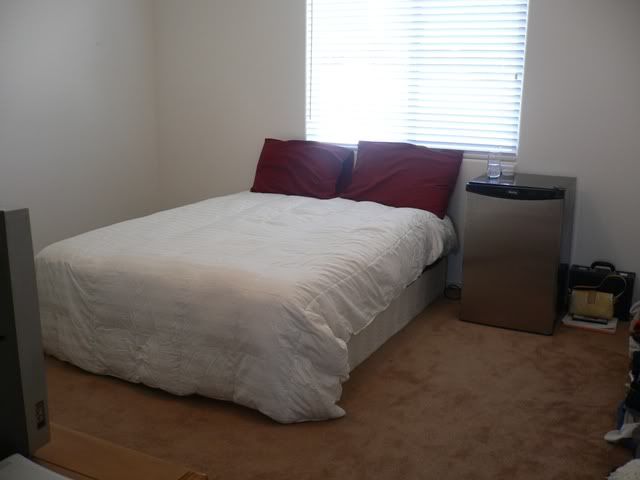 The "update" it got when we moved to the new house.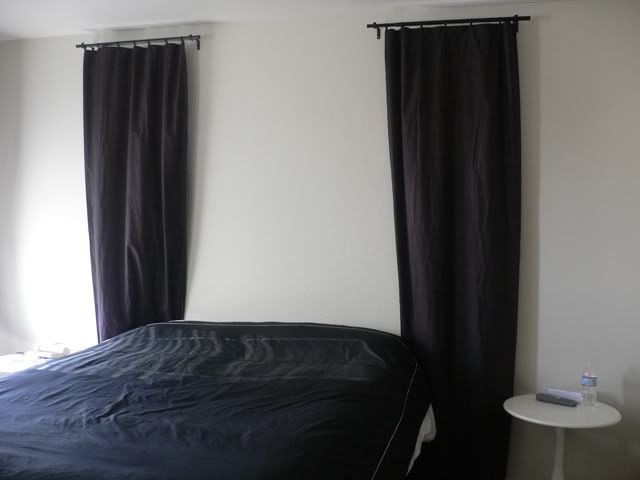 And after. I splurged on the faux fur blanket, which was $150 at Nordstrom. Mom and I had seen it one day and I was instantly enamoured by it. A week later I went back to return a purse and bought it! It was worth every penny as I feel it gives the room a very decadent, sumptuous feeling to it. The silver tray I made out of an old cookie sheet. You can check out that project
here
.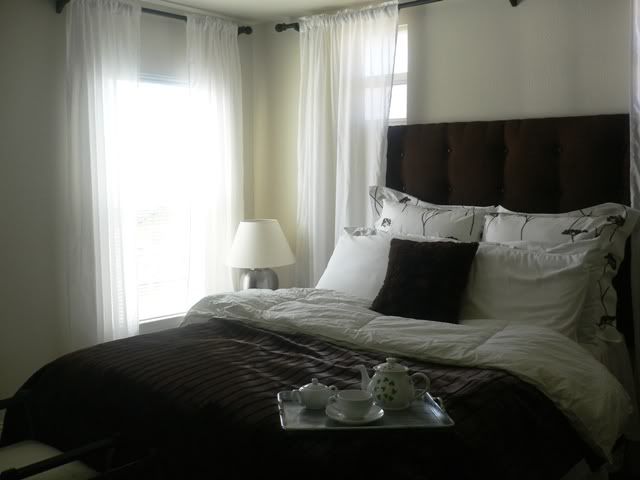 I wanted our room to feel romantic, modern, but with a hint of vintage/eclectic to it as well, and I think I accomplished it!
You may remember what the main wall looked liked before. It definitely needed something since it's directly across from our (now amazing) bed, and the room would have felt off if this wall was left empty.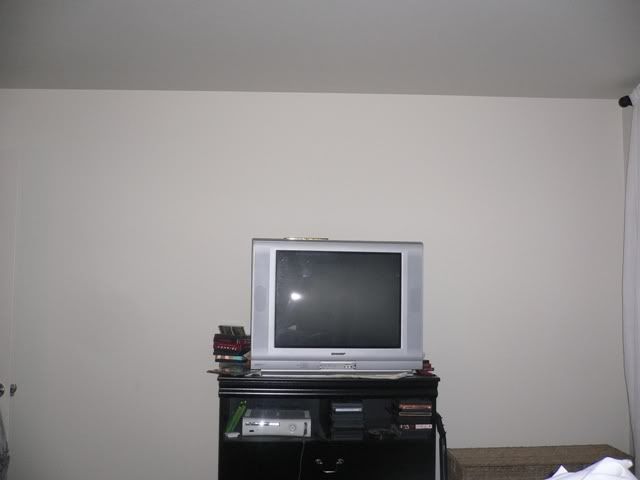 The shelves and brackets I picked up from IKEA and painted really help to fill up all the blank space.
They were decorated
using mostly home shopped and freebies, with a few store-bought items (post make-over). And I do still plan to make a runner for this dresser. But I might wait and see if we get a new TV first...
(hello reflection!)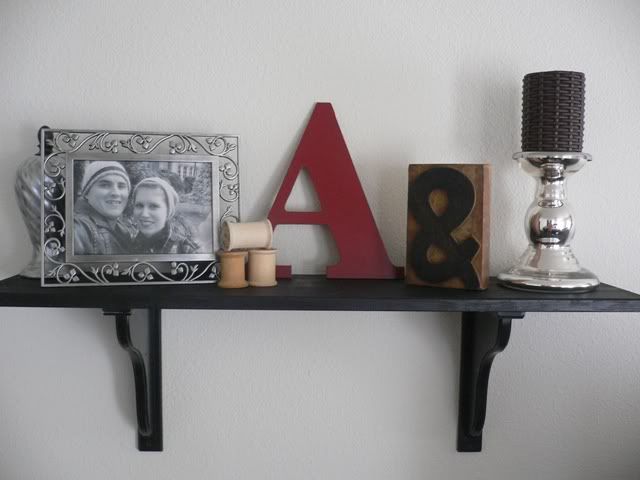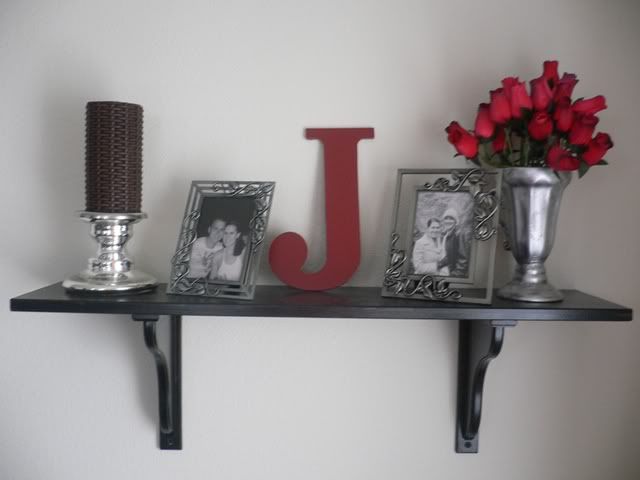 This little dresser needed some sort of pick-me-up as well. My readers suggested leaning a mirror against the wall to make it look more like a set, and I really liked the idea! I picked up cheap-o plastic framed mirror from Wal-Mart for a whopping $18, gave it a coat of satin black paint (I didn't want it to be super glossy since the dresser isn't either).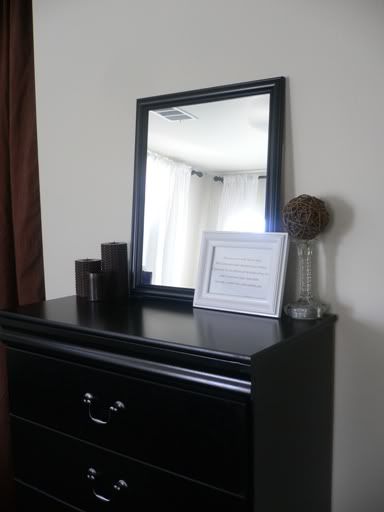 I added some more of my $3 Michael's candles, along with a plain one too to mix up the textures.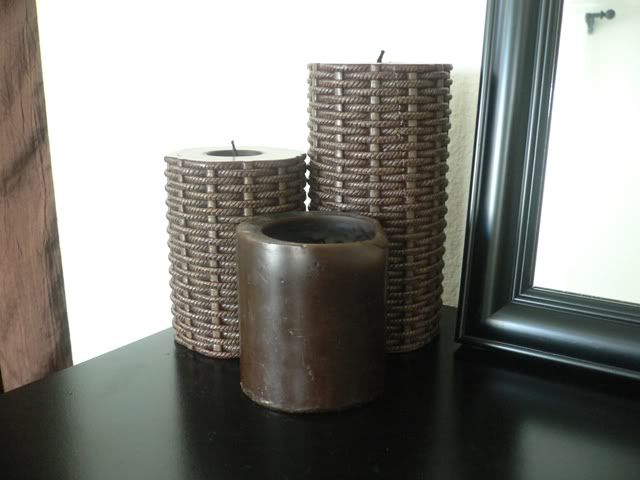 Another on of my thrift store candle sticks, and a twig ball that was originally downstairs in my spring/summer decor. The picture frame was black, but I thought white would pop better since the mirror and dresser are both black. It may become apple green in the future.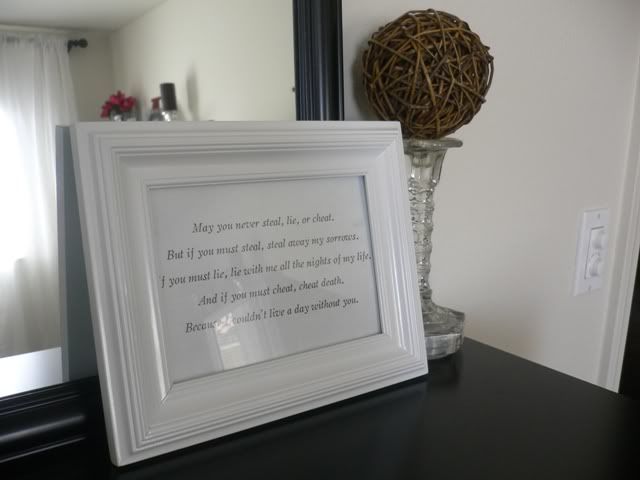 The saying inside is from "Leap Year" (c'mon, you knew I'd get an Irish element in there
somewhere
). When I heard it, it made me bawl and I knew I had to have it in our bedroom. It says:
"May you never steal, lie, or cheat.
But if you must steal, steal away my sorrows.
If you must lie, lie with me all the nights of my life.
And if you must cheat, cheat death.
Because I couldn't live a day without you."
And now for the part that everyone is always the most curious about: the price tag. Just remember, this isn't actually complete since I haven't taken the foot stools to an unholsterer yet and that will probably tack on a few bucks.
BUDGET
- Bed/headboard (DIY) - $99
(I'll be posting a tutorial on this in the next few days!)
- Window Treatments - $58
a. Hardware (Home Depot) - $0 (purchased with gift card)
b. Curtains (IKEA) - $48
c. Blackout curtains (already owned fabric) - $0
d. Velcro (Joann's) - $10

- Paint (Home Depot) - $0 (purchased with gift card)
- Bedding - $238
a. Faux-fur blanket (Nordstrom) - $150
b. Euro shams (One Kings Lane) - $34
c. White pillow cases (4, Wal-Mart) - $22
d. Pillow inserts (eBay) - $32

- Décor/Misc. - $118
a. Amber's lamp (from Mom) - $0
b. Amber's side table (reused from other room) - $0
c. Jason's lamp (IKEA) - $60
d. Jason's night stand (already owned) - $0
e. Shelves (IKEA) - $16
f. Brackets (IKEA) - $10
g. Candles (Michael's) - $6
h. Pottery (World Market) - $16
i. Picture frames (from Grandma) - $0
j. Mirror (Wal-Mart) - $10
Running Total: $513
I'm amazed at how much more sophisticated it looks! And for less than $600?
Hoo-ray
. Yes, this took some time, but it was worth it. I've found that taking my time and finding things that make the bedroom juuuuust right is more satisfying than buying stuff all at once and then donating most of it to Goodwill once something better comes along.
I'm linking up to:
The Project Parade
@ The DIY Show-Off