I
'm really trying to get back in the habit of referring to myself as a
we
instead of a
me
. It's amazing how quickly you get back into the "I, me, my" mindset when your loved one is gone for a while. So, if you've seen me referring to
our
house as
my
house, or
our
room as
my
room, please forgive the slip of the tongue. Fingers? Anyhoo.


- Re-hang curtains in bedroom
- Finish & hang shelves and brackets
- Home Depot for primer & black paint
- Finish painting pottery
- Tidy living room
- Purchase printer ink
- Make fall sign for cubby
- Make Halloween sign for cubby
- Print pictures for frames
- Put away dishes
- Clean off & set dinning room table
- Return fan
- Decorate guest bedroom and bathroom for fall
I hadn't planned on making a Halloween sign, or decorating two of my upstairs rooms, but I did them anyways! ;) The shelves are all painted and assembled, but I wanted to give the liquid nails a little longer to cure before I go hanging them on the walls (I used liquid nails and screws to attach the brackets to the shelves). And I'm still hoping to return my fan sometime this week! Overall it looks like I was very productive this weekend, but I also feel like I should have (and could have) done much more. Mom's coming over for another weekend stay, so hopefully we'll have this place all stitched up by Sunday night!
If you missed my multitude of posts over the weekend--I'm making up for lost time I tells ya!--here's what you missed (click on the descriptions to go to the posts):
See my hair-raising impression of Roseanne Rosannadanna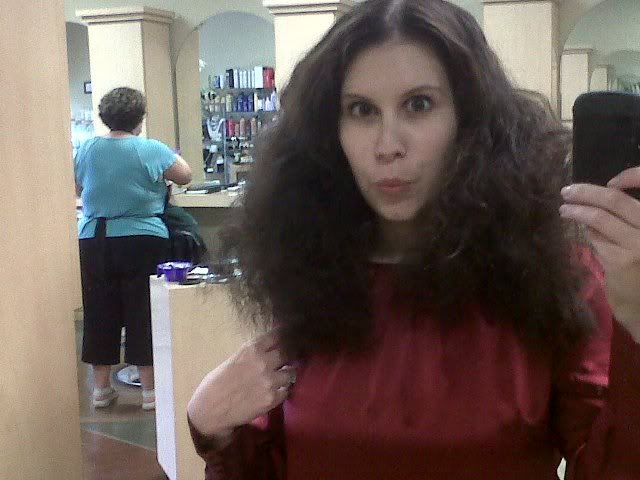 UPDATED: My Pottery Barn Knock-Off Lamp
See part two of my fall decorating bonanza: the guest bedroom & bathroom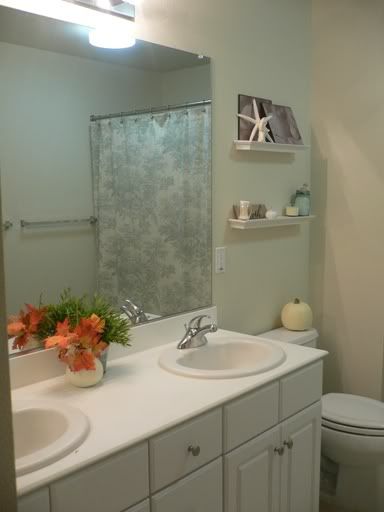 Now, if you'll excuse me, I have to go make some moolah so I can continue funding the remaining projects I have! Is it bad that I already have
more
compiling inside my little brain? :)