Welcome back--hopefully you're joining me from Circa 1952. I have no idea how Google works when you buy a new domain name. So if you're all here, I apologize for the rash of notes I sent. I'm pretty type-A, in case you haven't already figured that out.

I decided to go ahead and change the name of my blog to something a little more all-encompassing. This little name comes from a comment Hubbs made a few months ago. Our favorite thing to do is be absolute dorks with one another. If I tried to explain some of our antics I'd come off sounding half baked and you'd all be ready to commit me to a loony bin, so I won't even try.

On one such occasion, he looked at me and said, "We're not two peas in a pod--we're two nuts in a shell!"

Corny? Absolutely. But accurate? You have no idea...
Anyways, on with the blog!
I'm so sad that Real Simple Magazine [which is the equivalent of Redbook in my little world] discontinued their "Fake It, Don't Make It" section. It gave wonderful ideas on how to make complicated recipes simple. One of my favorites was a woman who's son loved ice cream cakes on his birthday. Rather than pay the outlandish prices for an ice cream parlor one, she layered ice cream sandwiches, whipped cream, and his favorite candy together. Voila! Instant ice cream cake!
Another one I absolutely loved was this [like my trying-to-be-fancy photo?]: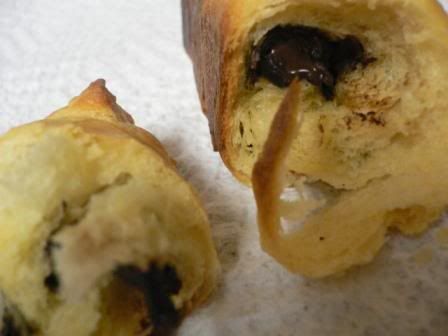 Chocolate pastry rolls. Take Pillsbury Crescent rolls, chocolate chips [I prefer dark chocolate, because I think they offer better flavoring], roll them up together, and bake. If you knew how to make icing, you could probably drizzle some of that on there as well. This is one of Jason's favorite desserts now--he always makes sure I pick up Crescent Rolls and chocolate chips when I go grocery shopping.
And if Real Simple had a section for creative geniuses--well, I wouldn't submit anything because let's face it, most of my "amazing creations" come by pure accident. But in any event, genius or not, I wanted to share my own version of a "faked" dessert.
Lemon Bar Cookies
¾ cups granulated sugar
¾ cups packed brown sugar
1 cup butter or margarine, softened
2 teaspoons of vanilla
1 large egg
2 cups all purpose flour [if using self rising, omit baking soda and salt]
1 teaspoon baking soda
½ teaspoon of salt
Lemon curd, desired amount [lemon curd is usually in the specialty food section, jam section, or I found mine at Cost Plus World Market]
1. Heat oven to 375 degrees F.
2. In large bowl beat sugars, butter, vanilla, and egg with electric mixer on medium speed [or mix with a spoon]. Stir in flour, baking soda, and salt. Dough will be stiff.
3. Spray cookie sheet with light coating of cooking spray. Drop dough by rounded tablespoons onto sheet about 2 inches apart.
4. Using flour to coat your thumb, press down into center of each cookie to create a "valley" in the dough.
5. Bake 8-10 minutes until light brown [centers will be soft]. Let cool 1 to 2 minutes. Using a small spoon [or teaspoon] place desired amount of lemon curd in the "valleys" your thumb created. Use spoon to smooth in circular motions.
6. Gently remove and place on platter. *Top with powdered sugar if desired.
*The dough already makes these cookies rather sweet, so taste before powdering.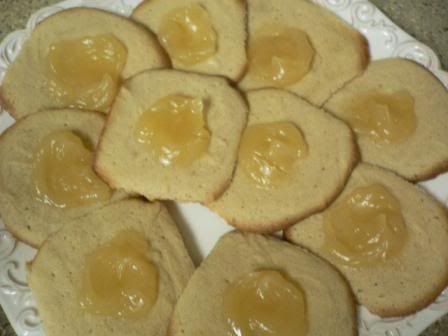 Oh these are so yummy! I took a dough recipe for chocolate chip cookies, topped them with lemon curd, and I swear to you they taste just like a lemon bar [which I happen to luvre]! I reserved some of the dough because I had no idea a.) how these would turn out or b.) if we'd like them; I didn't want 50 cookies laying around that no one was going to eat.
And before we part ways, I have to show you this as well.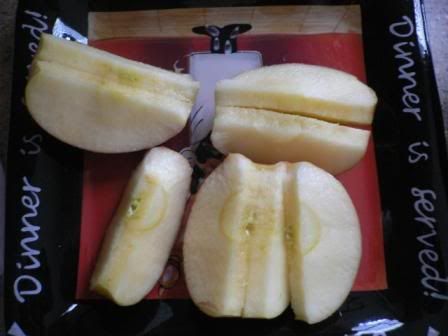 Yes I know--why am I showing you an apple? Because this apple is over six weeks old! We bought it at Costco when we visited my family back in
March
. It's been residing in my Debbie Meyers
Green Bags
. When I saw them at the back of the fridge I was immediately grossed out by the idea of picking up the bag of apples and ending up with fermented apple cider. When they didn't liquefy on contact, I took one out, used my handy dandy apple slicer to open it up, and was shocked to find it without any discoloration! Then I figured it would at least
taste
rotten. No. Way. Juicy, crisp, just like day one. Since I bought these bags
last year
[and they're
each
reusable up to ten times] I'd say they've more than paid for themselves--three times over.
Oh!
Side note
: many of you e-mailed asking about
Alana and baby Hunter
--I'm happy to report mom and baby are doing amazing! This shot came to me courtesy of Layne back in North Carolina. Isn't he cute?!