A
fter almost two years of telling myself that I was going to buy a sewing machine, I finally got one--as a Christmas gift from my sisters and step-mom.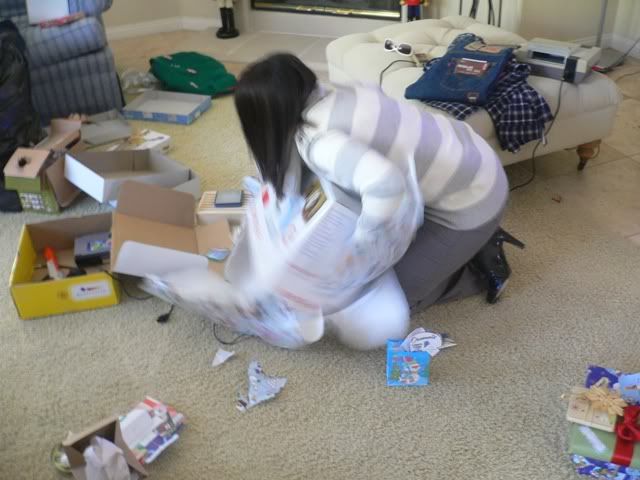 (Look at that paper fly!)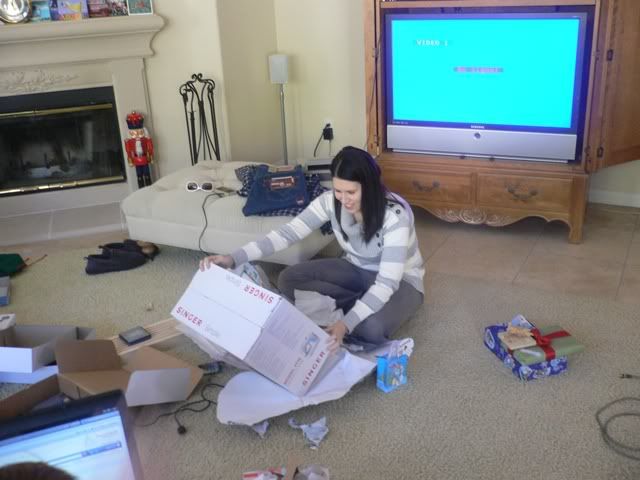 (Note the old school Nintendo over my right shoulder--my sister's gift to her boyfriend.)
Not only that, they loaded me down with some amazing accessories (box of bobbins, anyone?)! One of my favorites was the package of customized labels they had made for me. I can't wait to sew one onto the first project I complete (I don't care if if it's only a satchel! I'm sewing one of these babies in)!
I'm thinking my first project is going to be three throw pillows for our bed. I picked up these gorgeous throws at Pottery Barn, on sale. I just love the colors (and the small hint of a four leaf clover in the center)! I was lucky enough that Jason also liked them--thank goodness because I'd already purchased them!
I've been looking around for complimentary throw pillows, and was actually going to buy two of these large euro shams and the little blue pillow from Bed Bath & Beyond. I thought it would be one of those doesn't-really-match-but-still-goes-together kind of looks.
But when we got to BB&B I was horribly disappointed. For one, the large grey pillows are $50, a price I was already choking on. But come to find out the price is for the covers only! And nowhere on the site does it say "sham only" or "does not include insert." So I would have been furious if I'd dropped $100 on two
pillow covers
. The little blue poppies pillow was also rather expensive at $40--and it looked so cheap! Don't get me wrong, I will spend money on something if it's worth the price, but these pillows were
not
worth their price tags.
Rather I decided to go with something simple and yes, a little matchy matchy for our bed.
I've always loved Pottery Barn's textured linen pillows, but again, cannot justify spending $25 for the cover alone seeing how they're so basic. I think the style is fairly easy to replicate, it's not too challenging for a beginner, and all I really need to do is find the right kind of button for the clasp.
I'd still like to find another fabric that maybe ties all the colors together--like a white, yellow, and green plaid. Or even a yellow, green, and blue plaid so I can introduce a new color into the room. I'm really loving greens right now and yellow and blue are my go-to accent colors, along with grey, black, and white.
I found these on etsy, but I don't think they're
quite
what I'm looking for. Maybe if the background was more white than cream.
Anyhoo. Those are my thoughts! So how was your Christmas?