I
haven't quiet secured a tree skirt for this year (my plan was to do a white tree skirt with feathers around the edge) but I haven't managed to find a white tree skirt that I want to shell out money for, just to turn around and alter it. I'm thinking I may just swing by Wal-Mart and grab some fabric! In the meantime, I did want to show you what we have currently residing under the tree.
Brown paper packages tied up with string (these are a few of my favorite things)! LOL. I know, how dorky am I? For years now I've wanted to use simple brown wrapping paper, jute twine, and white ribbon to wrap my gifts. This year, I finally did it! I love how simple they are, and they add a really cool element under our tree. Adds a bit of texture.
Side note
: for those of you in similar (crappy) house layouts as mine, you can appreciate the tight squeeze I had for our tree. Yes, we have a fake tree--sorry tree aficionados. When I started setting it up, I realized right away the one and only spot I could possibly put it was slightly too small. I pushed our couch as far away from the wall as possible (without blocking our walkway) but the tree was still getting caught up in our curtains (we have the Lill curtains from Ikea, and they're a netting like material).
My mother suggested I just pull the curtains back, but I was lacking any kind of hold backs. So, I rigged these.
With the same ribbon I used to wrap our gifts, I used to hold my curtains aside. A quick little fluff of the ribbon, the addition of a large glitter snowflake ornament, and my curtains were dressed for Christmas! I love the way they look in the glow of the tree light.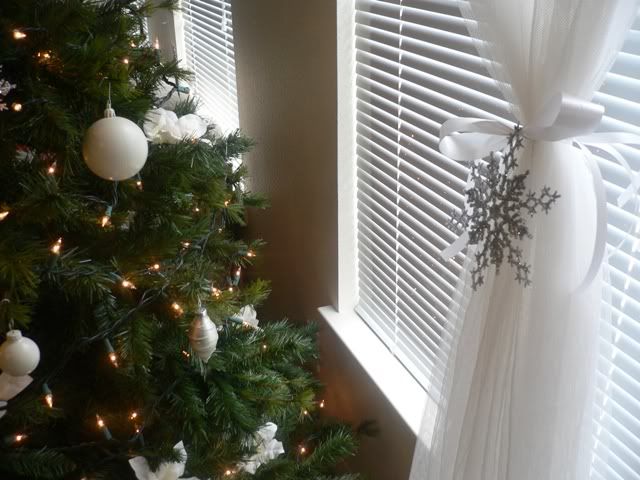 (Forgive the sparseness of my tree decor--I was still decorating it.)

Moving onto my latest DIY project, I'm not sure if it's a pass or a fail (which I HATE to say out loud). It started when I saw this photo in my Pottery Barn catalogue.
I wasn't crazy about the colors, but I loved the way it looked hanging up there in all its holiday finery. So I thought:
I can make that
! Turns out, it's not quite as easy as it seems. Presenting my not-so-great-but-still-kind-of-cute knock off.
I used the same Rustoleum primer and Heirloom White paint method as my
smaller ornaments
. I think may have actually been easier because they were larger! They started off looking like this.
A quick little scrub with the rough side of a dish sponge, and the glitter came off lickety split! I only wish the rest the project had gone so well. Pottery Barn wanted $60 for theirs. Mine was only $15. But I feel like mine
looks
like it only cost $15 and therein lies the problem. For one, I think all the white makes it look much more wedding than holiday. For two, I really need to figure out what that burlap-esqu ribbon is that they used to tie theirs up with. And for three, I'll have to find another color to work in with it. Maybe a copper? Something other than all white. Even if I'd used red poinsettias I think it would have turned out better.
But, c'est la vie. There's always next year. For now, it's hanging from our porch (with some more ribbon around it) and I'll worry about how to make it better next year.
I'll be linking to
Shanty 2 Chic's Rustoleum ReVamp Party
and
Funky Junk Interiors' SNS #9
.