L
et's see, three days since my last post and no Honey-Do Friday? Well that's a little unheard of! ;) I'm trying to get ready for the Shanty 2 Chic
Rustoleum ReVamp
party coming up. I have a couple of projects that will be listed, but they are so time consuming! Plus, Jason and I have been running around trying to get our Christmas shopping done. Our list is coming along quite nicely:
☑ Mom - Ed Hardy stuff
☑ Dad - books
☑ Step-dad - sweaters (we got some for a song at Macy's yesterday)!
☑ Step-brother - hoodie from his favorite store
☑ Step-sister - hoodie from her favorite store
Sister 1 - books
☑ Sister 1's boyfriend - cold weather clothes
☑ Sister 2 - something from etsy
☑ Their mom - hand made gift (can't wait to show it to you; it's very sweet and simple)
Her husband - subscription to his favorite magazine
Dad's girlfriend - hand made gift (which is still in the process of being made--it's being a real pain in the arse!)
But in the mean time, I thought I'd share one of
my
gifts with you. Jason and I were having lunch the other day, watching old re-runs of "Friends" ("The One With The Routine") when he just turned to me and said, "I think I want to give you one of your Christmas gifts now." WHOPPEE! I love early Christmas gifts. In fact, Jason and I are notorious early gifters. One year we had our Christmas shopping done in September and by October we'd opened them all! But this year, we're doing pretty well.
Anyhoo, he told me to close my eyes and put out my hands. When I opened them, I was holding the holy grail of Christmas gifts: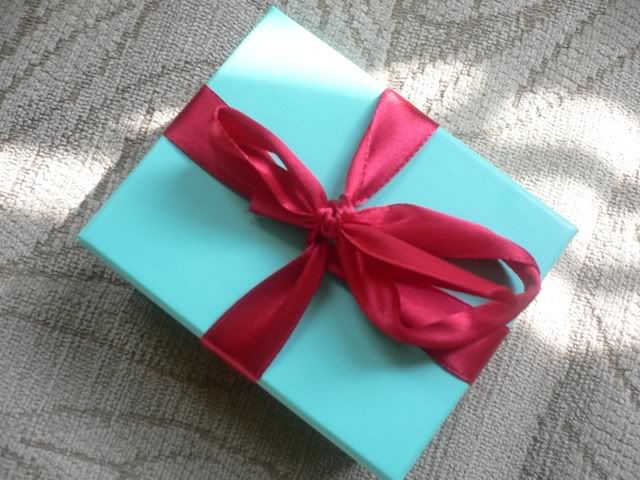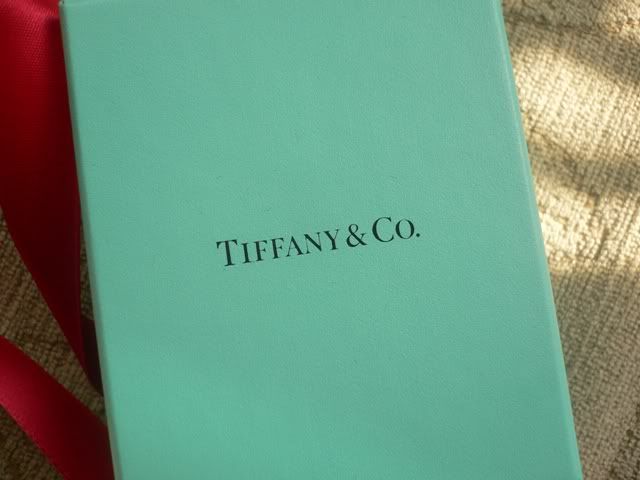 He even had my initials engraved on the back. Needless to say I've been wearing it every day (because what
doesn't
go with Tiffany & Co.?) and am now busy planning my Christmas outfit around this beauty!
Tomorrow I'll be posting about all the Christmas projects I've been doing around here! I'm also hoping we'll get our lights up (the first time ever in the history of our relationship, Jason and I will hanging Christmas lights!) and a few of our outdoor decorations. Until then, today's a cleaning and crafting day. My necklace is tucked away in her blue bed until I can wear her again. ;)