C
entsational Girl
challenged her readers to list what their Christmas traditions were. I loved the idea so much, I wanted to extend it past her comments section and into my own blog.
So, it's not Christmas unless...
1.
I watch "A Christmas Story" for 24-hours on Christmas Eve
. God, Jason hates this movie! But I love, love,
love
it! I put it on when I'm wrapping gifts, feeling blah, or this year we even had it on during Thanksgiving for everyone to watch. It just gets me into that Christmas spirit. And since we don't have cable (we got rid of it years ago) I just stick in my DVD and fire it up!
Christmas Story all Christmas long
!
2.
I buy a whole thing of eggnog, and only drink half of it
. Another thing Jason hates (he's quite the Scrooge, isn't he?). I love the idea of eggnog, but once I get that quart-sized jug in my refrigerator it seems difficult to drink it all by myself (I buy the lactose-free kind, just in hopes that one of these years my husband will change his mind). Maybe I'll have to start partaking in Starbucks Eggnog Lattes instead!

3.
I have some sort of Christmas scented air freshener
. In 2006, when Jason first deployed to Iraq, he was gone during Christmas and wasn't home until March. I bought a faux-tree so that we could celebrate when he got home. Because of this, I lost that "real tree smell." This year, I finally reclaimed it with Bath & Body Works Wallflowers and candles in "Fresh Balsam." Whew baby, it's like a Christmas tree exploded in our house. I'm in pine scented Heaven. Give it a try--it smells like Vaporub in the jar, but it smells amazing in the air.
4.
We send out a super cute, super cheesy Christmas card
. Some years we go for the silly joke cards, others we send out newsletters. This year, we chose to go for a beach themed holiday card. Hey, we live in California. No point pretending we get all bundled up for Christmas!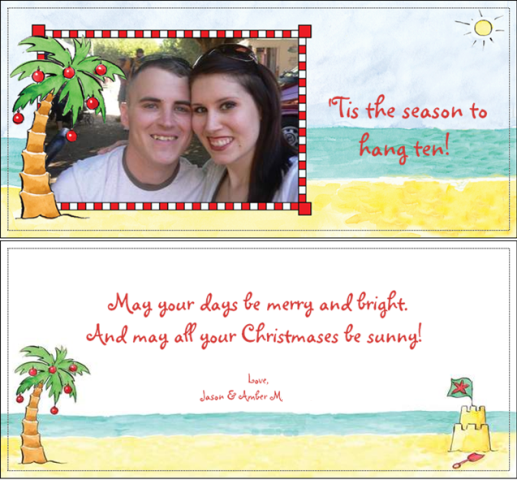 (The dotted lines are
not
on the final cards.)
5.
Jason and I give each other practically all our Christmas gifts...before Christmas
! We are so
bad
about this! One year we were way ahead of the game and had all our Christmas shopping done by September. By Halloween we'd given each other
all
our gifts! This year we're doing pretty well. We've only handed out three
gifts
to each other. It looks like we might actually make it to Christmas Day with presents still under the tree!
6.
We listen to Irish Christmas music
. Celtic Woman is our favorite band for this tradition (Jason
really
wants to see them in concert, but man the tickets are expensive--$250 for regular seats!). The songs we love most right now are "
Ding Dong Merrily on High
," "
Carol of the Bells
," "
Greensleeves
" (one of my most favorite songs
ever
) and the first verse of "
Silent Night
--" they sing it in Gaelic! So gorgeous.
7.
I have my husband and my family together
. I admit, this one doesn't always happen. For a while I got either my husband
or
my family, but not both. This is only the second year that I will get both of them. Jason's home, we're in California, and all is right in my little world. :)
So whatever your Christmas list contains, I hope this year you get everything you need to make it the perfect Christmas in your house!
(Jason & me last Christmas, celebrating with
English Christmas Crackers
--maybe we'll have to do this again this year!)