W
ith a name like "Lemon Drop" to describe the color yellow, how can you not love these curtains?! For one, I have a place in my heart for lemon drop martinis. I had my first one in The Palm restaurant in San Antonio, Texas while Jason and I were moving back to California in December of 2008. I distinctly remember calling my dad and saying, "I'm drunk in San Antonio." But I digress. When it comes right down to it, these $8 curtains from
JC Penney
were definitely the right choice for this room (
NOTE
: I believe they're currently on sale for $10 each).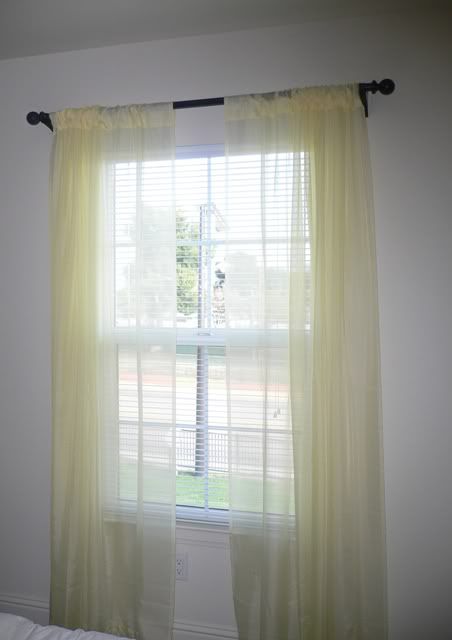 They're hung on more PVC-pipe curtain rods with simple round finials from Home Depot hot glued on the ends. I'm going to work up a tutorial for the curtain rods, just in case anyone out there loves the look but is having trouble executing them. I just love how dreamy the sheer fabric makes the room feel, and as the sun sets the yellow turns into more of a gold and bathes the room with a warm glow. I wish I could capure it better on film, but here's an idea of how it looks.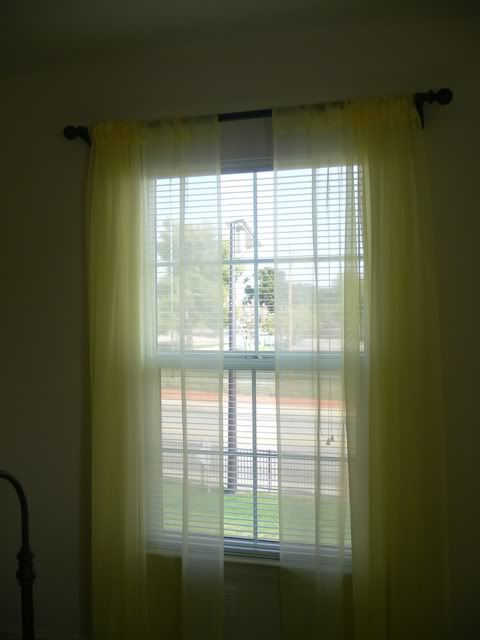 See?? Dreamy! It makes me want to go hog wild with sheers in our master bedroom as well. Who wouldn't want to be enveloped in that?