E
ver since I saw this lamp from Pottery Barn, I couldn't shake the image from my mind. The curvy mercury glass was so pretty and the light bulb visible through the unlined lamp shade gave it a somewhat playful appearance. I loved the effect!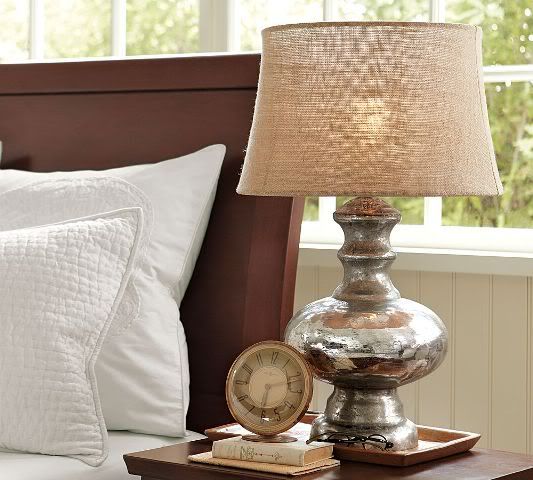 What I didn't love (as usual) was the price they were demanding.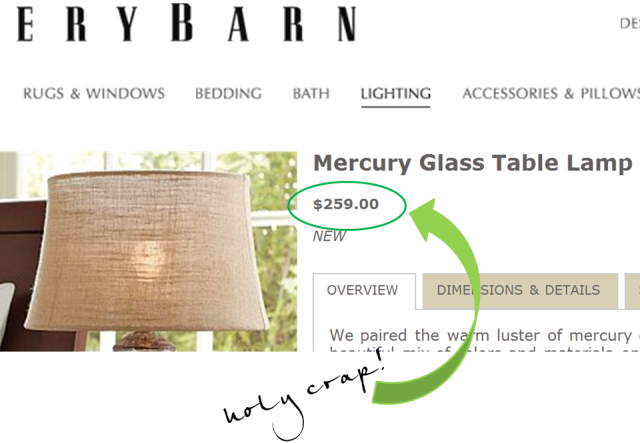 No matter how much I loved it, I knew I couldn't get on board with that astronomical dollar amount. So I sort of put the idea of owning it out of my head. Fast forward to last week when I was at the ESW looking for Mother's Day gifts and a lamp for the guest room. I found a real cutie--the perfect size for the top story of the night stand--for a whopping $4. It was very brassy and tarnished as you can see.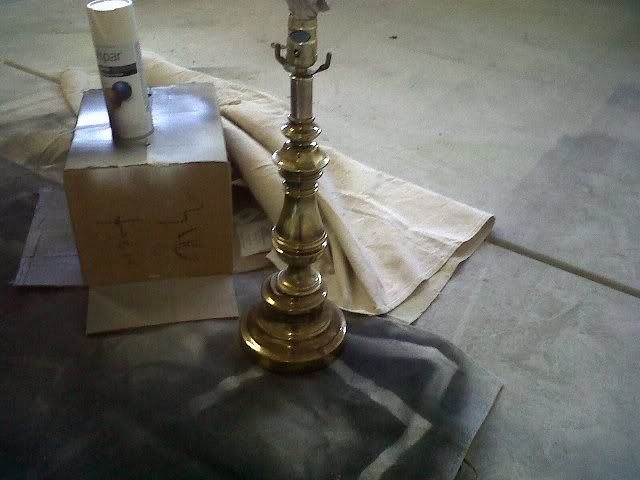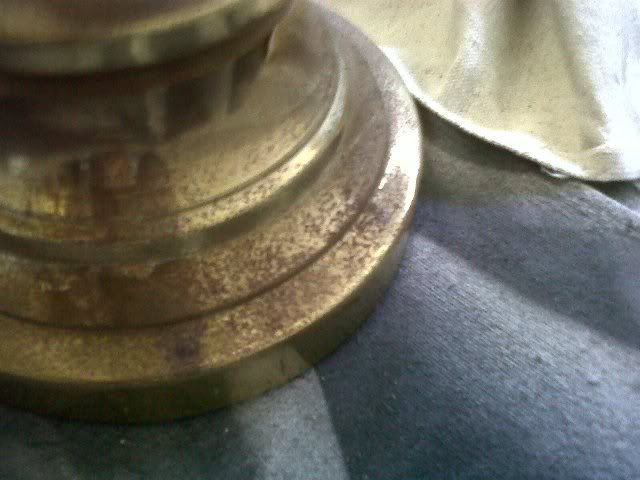 A coat of primer made a huge difference, but from here I was at a loss for what to do.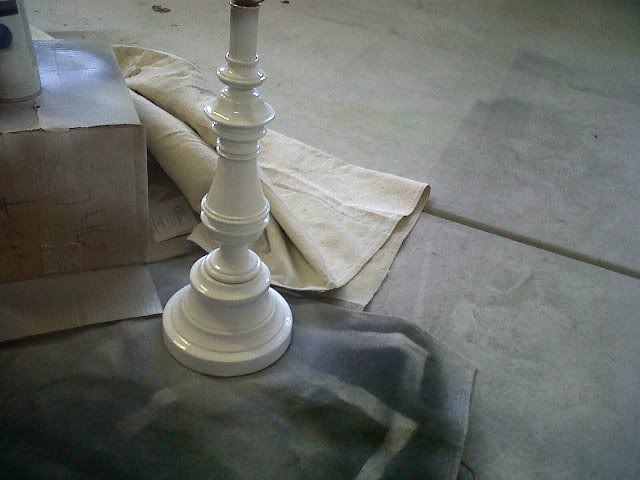 Then I remembered the oh-so-coveted mercury glass lamp. But how could I achieve that look?! Roeshel had great success with her
mercury glass pumpkins
by just using silver and brown paint, but I wasn't sure if I could recreate that look on the lamp. Then, out of the far corner of my mind came this idea.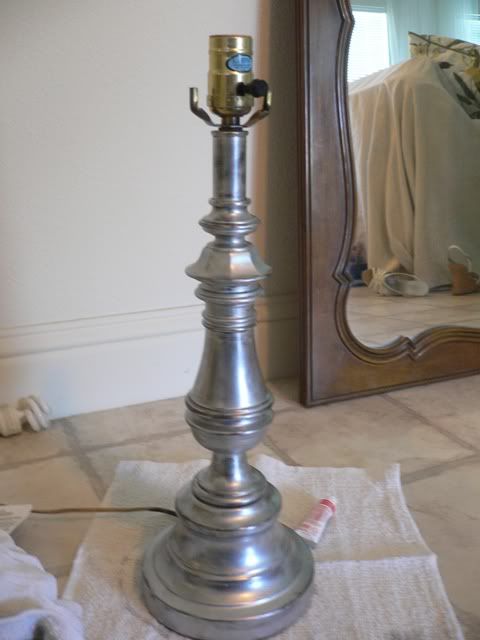 No, that's not spray paint and it's not silver leafing. It's a product called "Rub & Buff." I'd seen it used by Gina at
The Shabby Chic Cottage
, but she'd used their "Patina" formula. I used their "Silver Leaf." I had no idea what the heck I was doing, but at only $4 it was was cheaper than silver leafing and a
whole
lot easier (I had no idea what leafing actually entailed)! But before I started, I painted the lamp espresso, that way any color peeking through would be dark, just like regular mercury glass.

(Erm, sorry for my--ahem!--slightly crooked picture)
Then all it took was rubbing it on. I used my finger (which was very silver by the time I was done) and just sort of went at it! A little goes a ridiculously long way. I couldn't believe how little of the tube I used. Once it's dry (and it dries with in minutes, if not seconds) all it takes is a little rubbing with a rag. Any areas that rubbed off in a way I wasn't happy with, I just added more of the cream. I love the way it works! I'm going to go crazy with this stuff (after all, I still need lamps for our master bedroom).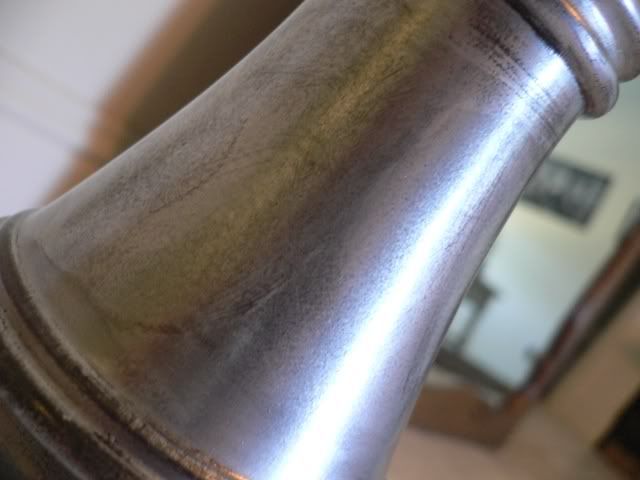 It's not a
dead ringer
for mercury glass, but I have no doubts that this was a better choice than spray paint.
Now all I needed was a lamp shade. I tried to make my own frame and cover it with burlap. The frame making went fine, but the whole covering it with fabric was a little more difficult than I had anticipated. I started searching for just a simple burlap lamp shade, even though I
really
wanted the see through effect (which can only be achieved with an unlined shade). On a whim (read: out of sheer desperation) I happened to check Pottery Barn's website, which is where I found this.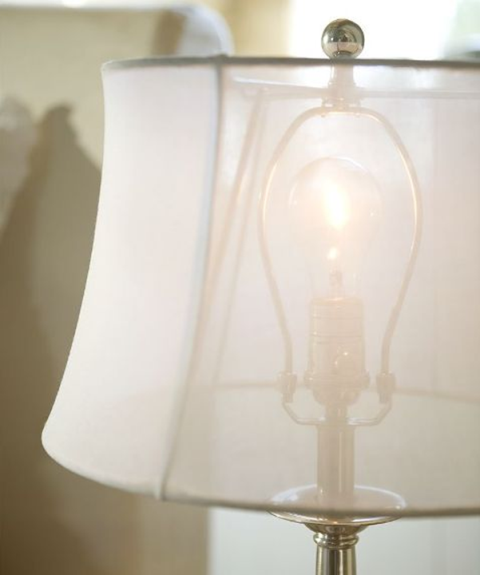 It's much more sheer than the burlap, but the concept is the same! I love the softness is gives the metal of the lamp in their photo. But the best part was the $19.99 clearance price tag! Well, that and I paid for it with a gift card so technically,
technically
there was no out of pocket cost. =)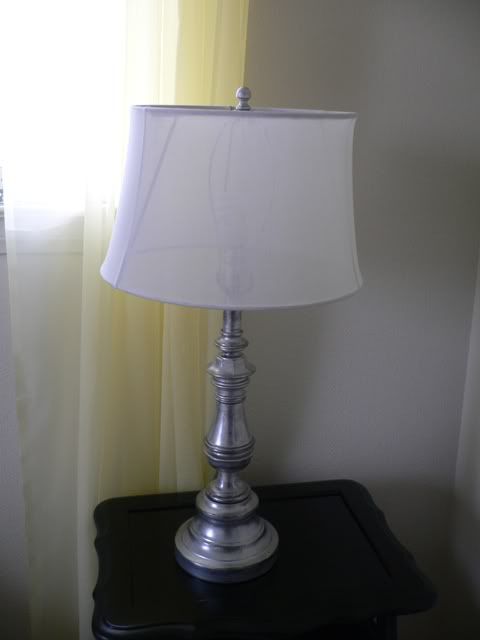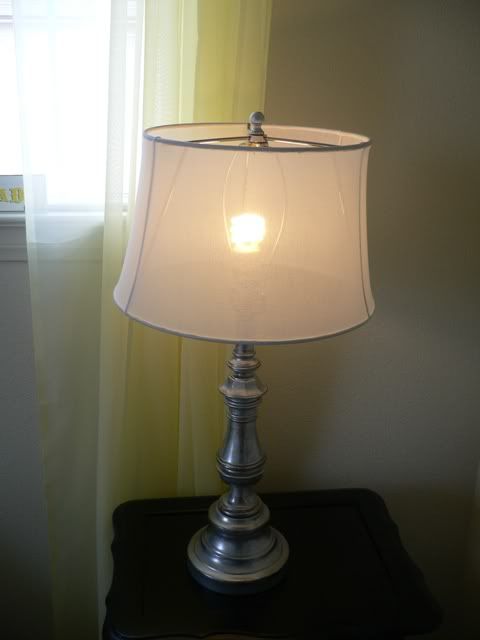 All in all, my new lamp cost me $28 total, but only $8 out of pocket! If you're better at covering your own lamp shade, this is a wonderful way to add a little sparkle to your room without shelling out a lot of paper.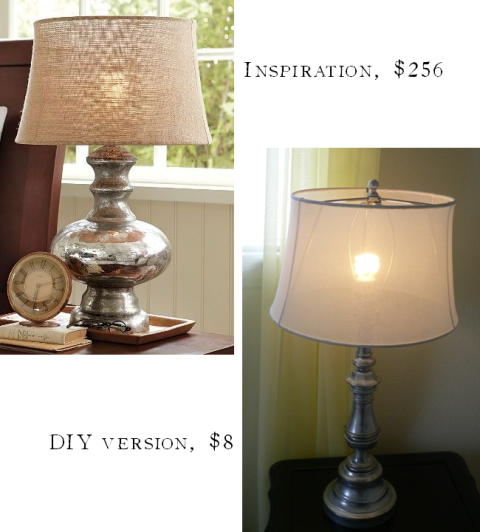 I'm linking up to:
DIY Project Parade
@ The DIY Show-Off
Trash to Treasure Tuesday
@ Reinvented
Power of Paint Party
@ Domestically Speaking