I
'm so sorry in advanced if anyone now has that syrupy sweet song stuck in their head! =) But that's what I'm doing for tomorrow's outing with Mom. We're going to a local industrial-salvage-flea-market-farm place in hopes that I'll be able to find some of those things I've been searching oh so hard for at other places. I know, I know, I'm being cryptic. I'll tell you what the heck I'm jabbering about.
Jason and I have never had a proper outdoor space. From our first teeny-tiny-can-barely-move apartment, to the newly-built-you-have-to-do-all-the-work-yourself-and-you-don't-know-anything-about-DIY house in North Carolina, to the holy-hell-it's-
actually
-hotter-than-hell-out-here grassless backyard in 29 Palms, our current home is the first time we've actually lived in a place where a backyard isn't just a dream, it's actually a reality. And I aim to take advantage of that!
I started by cheating. I began to look at all the matching sets they carry in places like Wal-Mart, Sears, Target, BB&B, and so on. In my defence, K-Mart was running their "layaway" commercials and my subconscious was duped into believing it needed a retail set. I had this one all picked out from Wal-Mart.
But, that was until
The Nesting Place
shared this photo from
Home Sweet Inspiration
.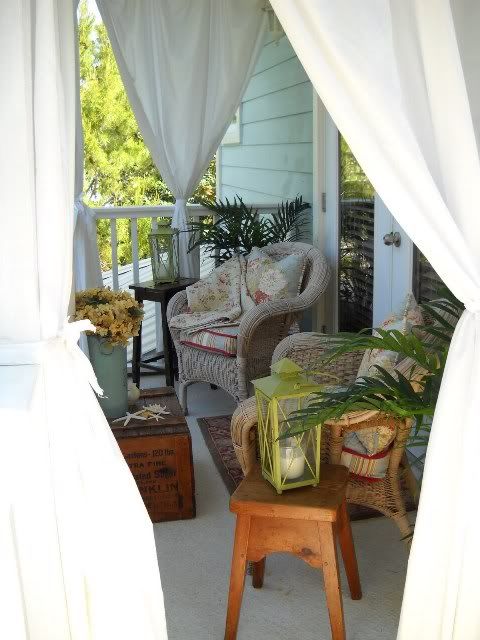 And that's what I've been looking so freaking hard for--vintage, used, old outdoor furniture. And would you believe me when I say it's the hardest freaking stuff to find?! Does no one thrown out wicker anymore?? I've also got my eye out for an old metal baby crib. I saw this one when Miss Mustard Seed shared her space with us for
the parade of homes
. I thought it would work equally well outdoors (using outdoor cushions and fabrics of course)!
There's still a matter of some sort of canopy or gazebo, but I think my little brain has whipped up an idea. Of course, the idea won't exactly work unless there is furniture underneath it! So
wish
me luck, as I
hope
to find a few pieces tomorrow with Mom!