What happens when your budget rears its ugly head and puts the breaks on your DIY-decor-a-thon? Polyvore!
I've really been enjoying their site, being able to put together my room plans and see them all in one place versus one big messy folder on my computer's hard drive. While my layout boards aren't nearly as amazing as other's DIY-designers, they're a great way for me to show Hubbs what my plans are so he can veto or agree with them. Here's a plan I made for our master bedroom.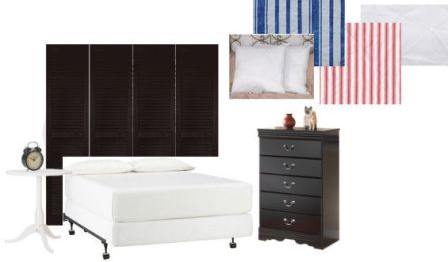 Details
DIY-shutter headboard: $55
Old fashioned alarm clock: $7-$25
European square pillows: $30
Navy ticking stripe fabric for pillow covers: $32 for four yards
Bed: $0 [already own]
Night stands: $0 [already own]
Down alternative comforter: $0 [already own]
Chests of drawers: $0 [already own]
Total (not including red fabric): $124-$142
Thankfully, our bedroom has good bones. Earlier this year we invested in a nice set of chests and a simple metal bed frame. Now it's just pulling it all together. I was thinking we would end up doing a padded headboard, but I loved the idea of having two huge euro-pillows piled up on the bed--which would negate the need for the headboard. So instead, I decided to go with shutters. I scored a great deal on eBay [let's hope it's better than the last one] and found a set of four shutters for only $55 after shipping. I jumped on them because a.) the size was perfect--14.5" x 60" and b.) they were a phenomenal price--Lowe's wanted about $30 per shutter, and they were shorter than the ones I bought! Mine worked out to $13.75 a piece!
My only qualm about my plan is spending $25 on the alarm clock that I want.
I love its tarnished silver body and the Roman numerals on its face--but $25? It's a little steep in my opinion, especially as it's going to be purely deocration [I haven't used a real alarm clock in years]. The clock in the layout is from Ikea, a good ol' fashion bell chime alarm clock. It's just as cute, but for some reason I'm wanting those Roman numerals. Guess I'd better start visiting some consignment shops!