Waiting for the train to take us up to San Luis Obispo.
The reason I love coastal California. I had about seven solid hours of staring at the ocean.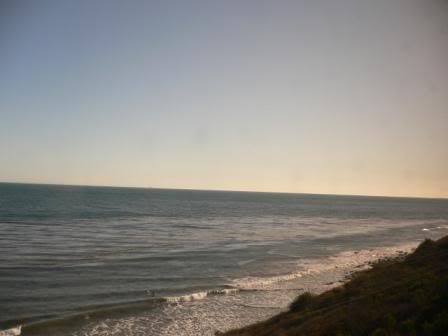 This is how college students decorate.
My art-degree-aspiring sister [who graduated with a journalism degree] pulled out all the stops when it came to decorating her mortar board. Can you see the 2-0-0-9 she snuck into the painting?
Looking for Brittany [this, subsequently, was the shot right before our Del Mar races shot I posted a couple of days ago].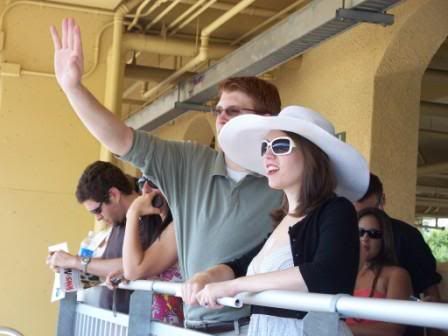 The whole family.
Please note
: I am wearing wedge flip flops and I am still the shortest! Both of my [younger] sisters have a good three inches on me at least.
Front row, from left: Diane [their mom], Brittany, Alyssa, Me. Back row, from left: Howard [Diane's husband], Joe [our father].
Yes, that dark man in the back who looks like an islander is the father of us three fair skinned girls. I'm the only one who came close to getting his coloring.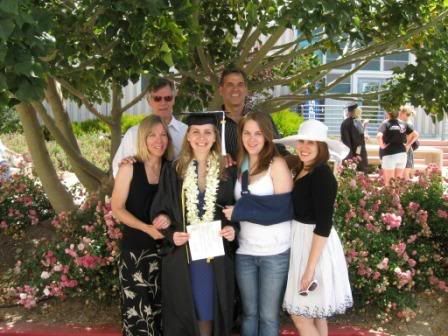 What we're really like when the cameras are off.
Me [25], Brittany [22], Alyssa [20]. And Alyssa's the tallest.
Our proud graduate.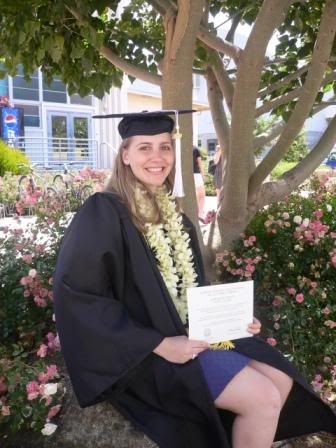 I took this killer shot of her lei after she decided it was already time to toss it out. Its beauty lives on!
The set up for Britt's graduation BBQ. I was in charge of the decorations. Does this picture scream Pottery Barn or what?!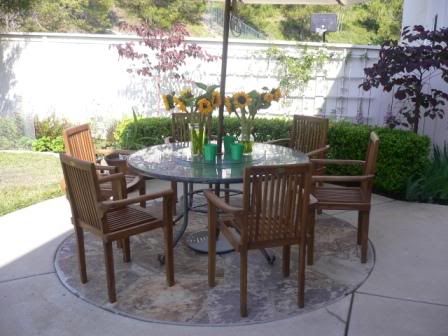 The yummy bundt cake we got [we added the flower]. It came from an adorable bakery in Poway, CA called "Nothing
Bundt
Cakes." Is that not the cutest?!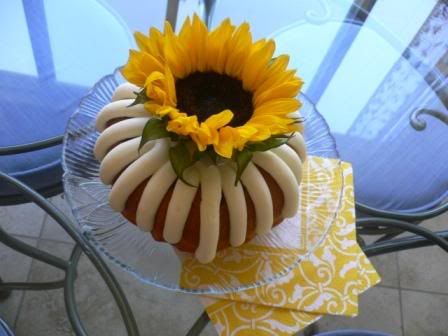 The whole week was wonderful. I've talked Hubbs into letting me take another week long trip in August. Since I'm not working, I see no reason not to spend as much time with my friends and family as I can since we're still waiting on orders that could whisk us away by year's end. Next time, I plan to try and squeeze in some of the events I didn't get to do this last time:
- Visiting Fashion Valley and indulging myself in some scrumptious items from Sephora.
- Spending time at the beach [running around Mission Bay at three a.m. drunk off a
Purple Haze
from
The Tilted Kilt
does
not
count!]
- More beach time--seriously, I just want to sit on the beach and let the salt water turn my hair into a big bird's nest

Is it August yet?