Hello all--I'm back! This trip was so wonderful! I spent a full week in San Diego with my family and it was great. Hubbs wasn't able to stay, as work/school doesn't permit him time off right now. I hate to say it, but a week to myself was very nice. Like a sinful little treat. I plan on trying to do it every other month as time permits.
I know I owe you all lots of pictures, but I wanted to hop on and share my newest addition the the blogging family: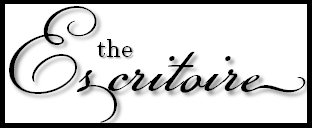 My new blog,
The Escritoire
, is a place for me to show case some of my short stories that I am constantly writing. [For those who don't have their handy dandy thesaurus nearby, "escritoire" means "writing desk."] Some of my yarns are just quick blips that may pass through my head; others come from detailed dreams I've had that transitioned nicely onto paper. I have a few in my vault, so as soon as it's up and running I'll be posting a new anecdote once a week [or so]. After I run out of those it make take me a while to update with new ones since my creative juices tend to dry up for short periods of time.
This blog is also going to be my constant reminder of my goal to finish my book that I started over four years ago. I'm really
really
hoping to have it completed by the end of the year so that 2010 sees me sending it out to [hopefully] be published!
In the mean time, check out
The Escritoire
and stayed tuned for more goodies on both sites!