Bright and early Saturday morning, I had an appointment to get my hair cut. ::gulp:: I had one of those über trendy angled bobs done while living back in North Carolina. [This picture was taken almost exactly one year ago.]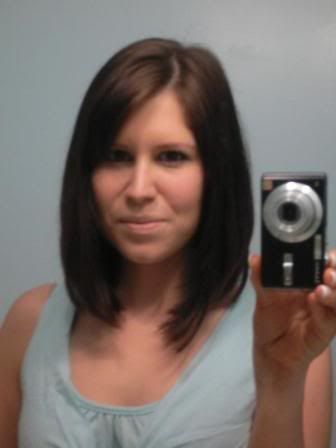 The growing-out process has been a P.I.T.A.! I've been terrified to let anyone touch it, lest they chop it all off or make it even worse. But, I figured I could find a reputable salon in Palm Springs, so I went ahead and made an appointment with
Salon 119
. Of course, me being me, I got horribly lost on my way there [Hubbs stayed behind to workout at the hotel gym]. I called the salon, near tears, planning to cancel the appointment. The owner calmed me down and talked me, street by street, back to the main strip and right into her parking lot! She didn't hang up until I was turning in. That immediately made me feel like I was in good hands!
The whole appointment went very well and by the end I had a cute new cut! I like to call this next sequence "trying-to-find-the-right-light-for-my-new-hair-cut-picture."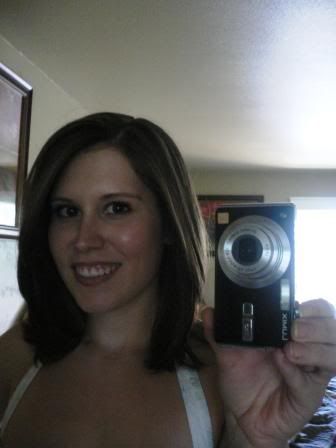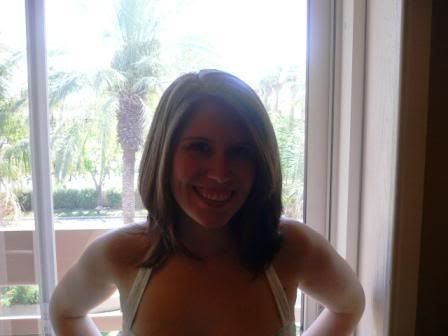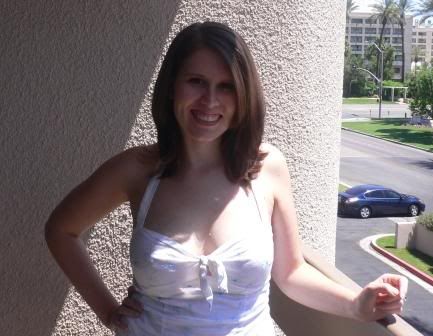 Feeling pretty sassy, I talked Hubbs away from the endless stream of baseball games and we headed over to Bed Bath & Beyond. We immediately ran over to the dish department where we started collecting pieces from their
Everyday White Collection
. We bought eight pieces [4 bowls, and 4 plates] to begin our set of matching dishes. Our other not-so-blog-worthy buys included a bath mat for inside the shower and a full sized trash can for the kitchen. It was the home decor section where we started having the most fun!
I scored these little guys for half off each, a mere $5--they now hang in our bathroom.
This beauty I did actually pay full price for, but that sparkly blue glass was just too gorgeous to pass up. She too, is hanging in our bathroom now.
These bright green palm tress were so much fun, but they weren't exactly on my I-have-to-have-it-right-now list. So, they stayed behind.
Next we ventured over to TJ Maxx to see what other shenanigans we could get into. I scored this great apothecary jar for only $8! I'm thinking I'm going to buy myself some great smelling bath salts and fill it up.
This runner was Jason's big find.
Technically it's a floor runner, and since we have a carpeted house, we really weren't going to use it for that purpose. But he loved it so much he didn't want to part with it. Instead he came up with the idea of using it in a table scape on our dinning room table! My husband! I couldn't believe he came up with that idea all on his own! So now I'm even more anxious to get the table finished with! You'll have to wait until then to see it in all its [$7] glory.
We finished Saturday night with a trip to see Wolverine, which was a great movie! I can't wait for the other X-Men Origin movies to come out!