Sunday
morning we woke up with two more stops on our list before heading back home. The first stop was Michael's, where we bought picture frames for wedding pictures. Yes, okay, I admit it. I still have unframed wedding pictures from two years ago! We picked up a 20x30-inch frame for Jason's favorite wedding shot, one we jokingly call "The Good Fellas."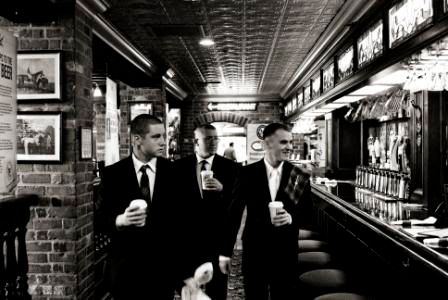 We also picked up an 11x14-inch frame for one of my bridal shots.
We need one more 11x14-inch for this shot as well; they didn't have two of the same black frames, and I wanted matching ones for the two photos.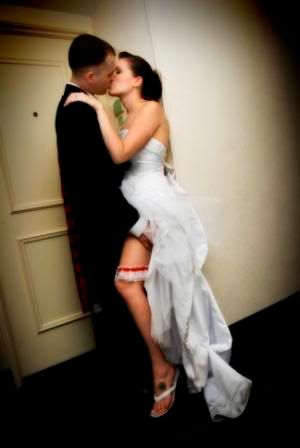 Lastly, we popped into World Market to check on a couple items I had my eye on. I've been coveting this metal leaf for months. I envision it on our wall outside the front door. But since we a.) have stucco siding and b.) are technically "renting," neither one of us wants to risk drilling into the wall to hang it and potentially ruin the siding. So, big fat bummer. But it's still pretty.
When we came home, the first thing I did was decorate our bathroom with our new treasures.


Apothecary jar from TJ Maxx, vintage milk glass jug and bowl from eBay, votive candle vase/q-tip holder from our first wedding, pencil star fish from Layne in North Carolina.
The red metal trash can definitely needs to go, I could probably use a rug on the floor, and there's still a lot of blank space on the walls. I want to wait until we hear about orders before I go hanging shelves or anything to fill it up. Hopefully we'll hear something soon, as we were told "mid-June" could bring about orders.

In the meantime, I guess I can continue the work on our furniture. I'm still waiting for my cane weave paper to get here from Pennsylvania. I put a message into the eBay seller this morning, since it's been a full week since I bought and paid for it. Hopefully Mr. Postman will suprise me with it this afternoon! My TV is getting tired of sitting on the ground.