So, as I write, my half stripped dinning room table sits in my garage; my TV stand waits for the finishing touch of paper to be applied; my chair, sheets and baskets are all on their way from Target; and I've been busy hunting for bargains and drafting up design budgets!


First things first, because I think pictures are always better than words:

I like to call this one "sprucing up Jason's gaming area." The screen and chair you've seen from previous posts [all though I love this opportunity to see them together!] The coffee table is a stand-in for the one I plan to refurbish. We have a French-Country style coffee table--an older piece from the very beginning of our relationship. It was the first piece of furniture we bought together actually! To make that blend in with the rest of the decor, I'm going to give the entire piece a coat or two of espresso paint. I'll also add a little distressing to make it feel older than it really is [if you can't find antiques, make antiques!]. I'll be replacing its chunky knobs with something a little more beach inspired. The patina starfish knobs I found on eBay for about $5 a piece.
The next plan of attack [no pictures] is our desk. Hubbs and I want something very simple for a desk. Very basic, clean lines, no nonsense. Well, turns out "no nonsense" doesn't come very cheap. So, when we went to Home Depot on Sunday, I walked around pricing out materials to make a desk.
.78" x 2' x 4' MDF for desk top = $10 each (1)
28" legs = $9 each (4)*
Closet Maid hanging basket = $12 each (2)
Running total: $70
*The legs I can find cheaper on eBay. I can actually get a set of four for about $13, but I'm having some trouble finding a seller who's not charging an additional $30 to ship the stupid things!
Even if I have to pay full price for the table legs, $70 for a desk is hardly anything to scoff at [and thanks to all the other projects going on, paint and primer are basically a household necessity at this point]! We plan to attach the baskets on the underside of the desk to give us some storage options since we won't have drawers. I'm still deciding on what color I'd like the paint it though. Hubbs pretty much just shrugs his shoulders when I throw out a color option. Brown would be my go-to, but since our office shares its quarters with our gym there's a lot of dark colors going on in there.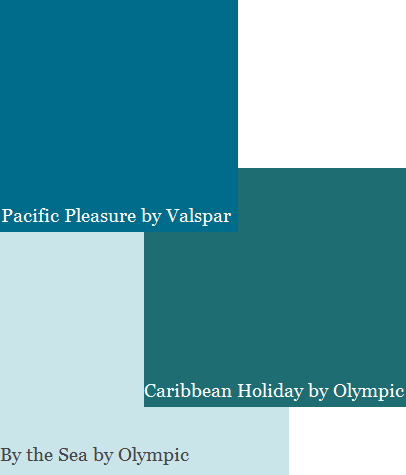 I'd love to add a splash of blue to the mix [especially because I have one more idea in my little head, but I won't go into it now]. I can't decide if I like the royal blue of Valspar, or the greens in Olympic. Even By the Sea is a nice refreshing color...
Oh well, I suppose I can't put the horse before the cart! Or the paint before the desk! Well... back to stripping--table stripping that is!
Update
: We just purchased our table legs! Found a very nice set of four on eBay for $26
after
shipping. That skims $10 from the cost of our full price legs from Home Depot! Bonus: no stripping involved--
yes
! That now takes our desk total down to a whopping $60!