So, due to an issue with the eBay seller, my table legs have yet to arrive and I'm now in a dispute with him over the whole thing. I'm frustrated to high Heaven and ticked off to boot! If I knew I'd be getting back the $26 I spent, I'd just tell him to hell with it. But he's being such a d-i-c-k, I know he'd never refund me the money of his own free will. So, hopefully the kind folks at eBay will help me. In the meantime, I can't do anything without table legs. Hubbs made me promise not to start it until they came so we wouldn't have another TV stand incident [you know, the one where the TV was sitting on the floor for two weeks because the contact paper took a little longer getting cross country than I anticipated?]. At least it's given me time to envision the office in all it's post-renovated glory, so that's fizzled my white hot rage. We decided to paint the desk Pacific Pleasure by Valspar.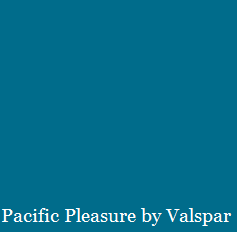 However, I needed to try and visually color match it to a spray paint since the legs probably won't tolerate a brush or roller. So, officially the color will be Sail Blue by Rustoleum. Now, with that blue color in mind, here's my mock up of our office [the desk is just a stand-in I found from Overstock.com].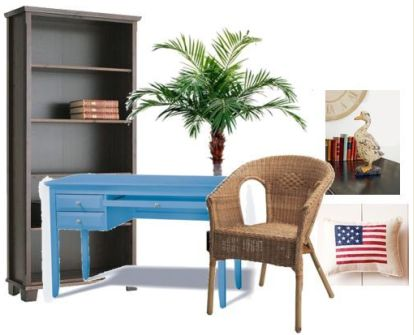 Details
Markör book case from Ikea: $170
DIY desk by moi: $70
Agen chair from Ikea: $35
American flag outdoor pillow from Pottery Barn: $0 [gift]
Wooden goose from Wisteria: $0 [self thrifted]
Potted palm from Ikea: $12
Total: $287 <----not too shabby for the whole office!
This number can go down if I find another book case. But Ikea's is actually solid wood, and I'm thinking our little particle board book case won't make the trip down to San Diego. I can tell the shelves are already starting to bow from the weight of our books, so it's going to need to be replaced sooner or later.
Oh! And onto even happier news--the table is done!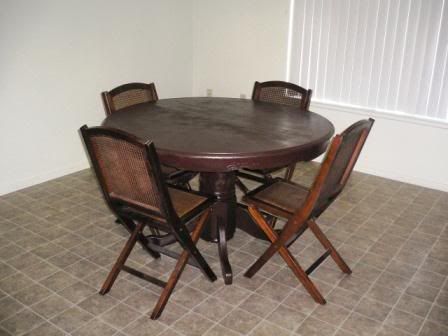 Sorry for the less-than-perfect lighting, which makes everything look splotchy. The chairs we bought for a song at Cost Plus World Market over Memorial Day weekend. We got the set of four for only $25! They're folding chairs, but I love the way they look--not to mention they seem to fit into the crevices of the table a little better than our white ones. I'm planning on painting those the same espresso color, and then adding some linen slip covers for when I want to table to look fancy. I'm so pleased with how it turned out!