I
have a bunch of pictures for you to gawk at today! Yesterday on the Fedora Lounge, I came across a thread about the everyday vintage woman. Pictures of real people during the thirties and forties; many of us even had family pictures we could share. I wanted to share my favorite one with my readers.
This gorgeous lady is my grandmother circa 1944. This is my most favorite picture of her ever. It's one of those manually colored photos, which I think makes everything look even more beautiful (it's also why it's in a bigger format--I want you to be able to see the details).
Also yesterday, Jason and I went to the outlet malls. I was in need of some bottoms for an upcoming baseball game we're going to. I've been corresponding with
Fleur de Guerre
for help on my outfit, as well as taking advice from
Super Kawaii Mama
.
This is the outfit I've decided on for the game.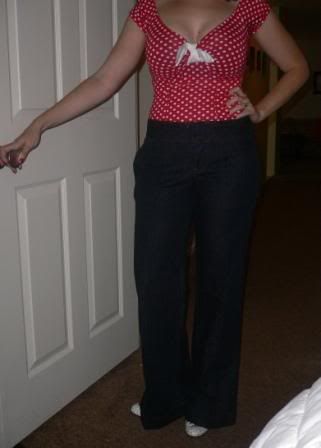 The top is from Pin Up Girl Clothing, and the bottoms are from the Banana Republic Outlet. They are the most comfortable pants ever! Plus, they give the illusion of being high-waisted, which I can't really pull off. In reality, they sit about an inch or so below my belly button. All that's missing are my red Ked wedges, my red polka dot purse (from eBay), and my white wide brimmed hat.




I got very fortunate when buying the Keds. They were $40 off and they only had two sizes left--an 11 and a 6.5. Hurrah for little feet!

Today we're off to do some grocery shopping and run some errands. We need computer paper so I can start practicing my cursive hand writing! I've downloaded some old fashioned practice sheets from a teacher's website. They look interesting to say the least!

Here's today's hair and outfit:




Another success with my sponge rollers!




Outfit Details: sailor pants - American Eagle Outiftters; top - Banana Republic Outlet (I like the nautical feel to the tie); shoes - Rampage, from eBay; mani color - Vodka and Caviar by OPI.