J
ust this morning I tried my hand at good old fashioned sunny-side-up eggs. Personally, I can't stand to eat egg yolks, even scrambled, unless they're in a cake or something. I had a not so good experience with congealed egg yolks... blech! But Jason loves sunny-side-up, so with our last two eggs, I made him breakfast.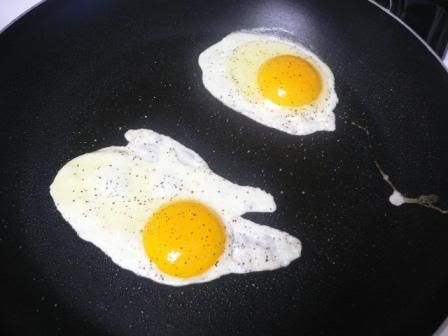 (The bottom egg got a bit wonky coming out of the shell.)

And instead of toast, he wanted to sop up his yolks with a toasted onion bagel half.
I got two thumbs up on their outcome, although he did mention they were rather spicy. I overdid the pepper a bit because I was so terrified they'd taste horrible!
After breakfast, I struck gold with my sponge curlers! Last night I rolled them with freshly washed hair (treated with a leave-in conditioner to prevent frizz). I covered them with a silk scarf and went to bed. This is this morning after taking the scarf off.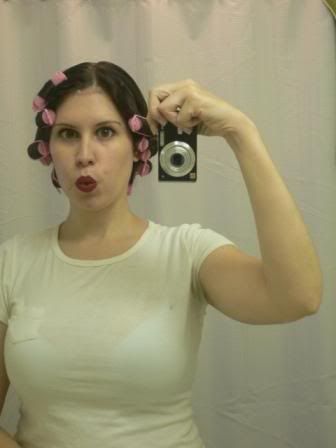 They unrolled into very bouncy Shirley Temple curls. I must have stood in front of the mirror for a good three minutes just watching them heave up and down.
Brushed out. The right side turned out great, but there was an explosion of curls on my left side! Had my whole head looked like this, I could have called it a 'do.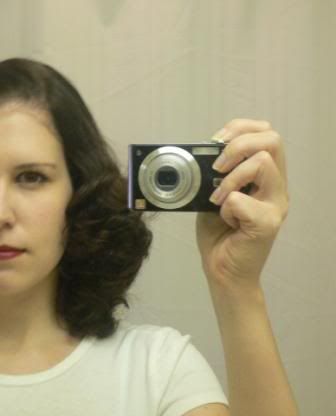 But instead, I did my patented faux victory rolls. Basically, I pull the sides back, twist them towards my head, and push forward to give them a little volume. Secure with bobby pins, and voila! Faux victory rolls. A little more brushing and some more conditioner helped tame any frizz.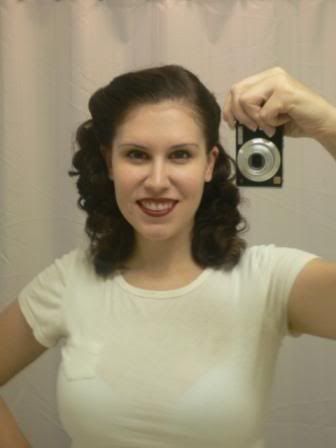 I'm super pleased with the results; more so now that I know I can actually use sponge rollers. Having to drag curling irons, flat irons, and hair dryers all over the country when we travel is a headache! These are compact and quick--plus, the bulk of the work is done while I'm sleeping!
Oh! I can't leave without the outfit! I did go a little retro with this halter sundress today. I think it's actually an eighties-does-the-fifties dress, but it's a nice lightweight cotton and I can wear my knee brace under it without any problems.
Outfit Details: Cotton halter dress - eBay; black heels - Anne Klein; vintage vanity - belonged to my great grandmother (<--- it will be getting a face lift soon)