H
i, my name is Amber M., and I'm a catalogue-oholic.
Hello, Amber.
I have this liiiittle habit of ordering catalogues. Pottery Barn, Ballard Designs, and Crate & Barrel are my favorites. But every once in a while I wind up with West Elm or Williams Sonoma in there too. And whenever I get that "If you do not order something, this will be the last catalogue we can send to you" notice, I hop online and purchase something I've been coveting for months on end. Luckily, it's usually on sale or clearance by that time.
My most favorite thing to do is let my catalogues build up into a nice pile. Then one morning, I quietly tiptoe downstairs, brew myself a piping hot cup of Plantation Mint Tea, and arm myself with four things: my catalogues, my Xacto knife, a notepad, and a pen.
Oh the sheer bliss that comes with each crisp turn of the page! The delight I feel as my knife slices through my favorite displays. The utter contentment of seeing something I love and writing down the idea or plan of how to do it myself!
I know! I have a serious addiction!
Sometimes, I come across something as simple as colored soaps. I might cut out the page, or I might just use my notepad and write down that it's something I'd eventually like to buy. A photo can even fix an issue I had lurking in the back of my mind for months! I'll add that to my notebook. Or, every now then, I'll just remember that I need more paint. So that goes on there too. Then, the notebook and pen go into my purse--
just in case
I happen to be out and want to give that little old list a once over.
However, other times those glossy slick pages just feed my brain. I get color inspirations, design ideas, accessory assistance--you name it, I'll probably find it in those pages!
I
so
wish we had the space to do something like this in our house right now.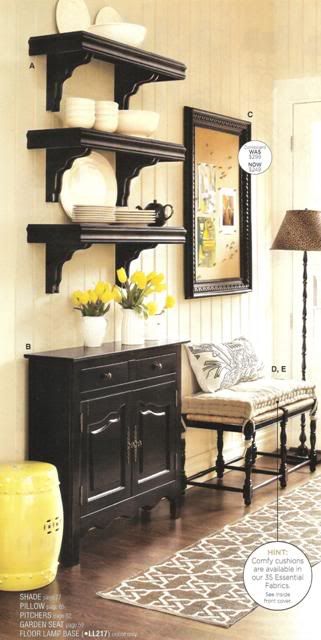 I pink puffy heart open shelving. Especially when the shelves and dishes contrast so beautifully like black and white. And those gorgeous pops of yellow!
Swoon!
So now you know. I have an addiction. And I'm pretty sure ordering all these catalogues has increased my carbon footprint by about 50 points. But I recycle them all when I'm done! That counts for something, right? ;)