- Repaper second bookcase

- Finish wood putty-ing and sanding project

- Finish painting candle sticks

- Make third attempt at threading sewing machine (Take that sewing machine!)

- Return items to Home Depot and get "price-match" price

- Prime new step stool
Both book cases are papered and on their way to being restocked. I just need a few more accessories to fill in a few gaps, but here's a sneak preview of what's going on.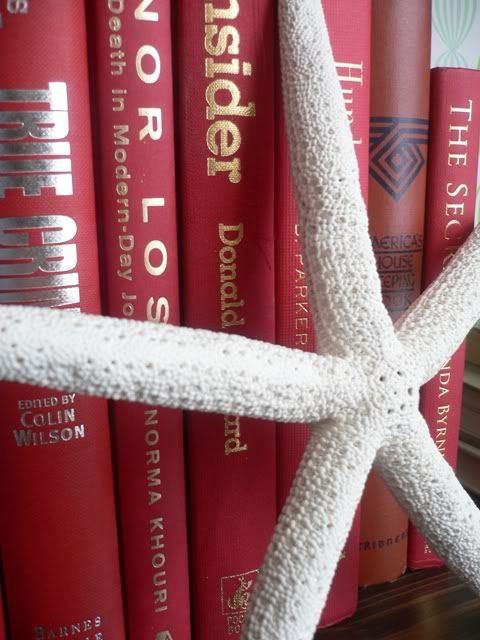 My shoulders feel like they're going to fall off after my weekend of sanding! Lesson learned: apply wood putty sparingly. I accidentally globbed it on nice and thick and had to
bust out my electric sander
to get the thing finished. And no, I won't tell you what it is until I'm finished, and yes, I'm fully aware I few of few of these "projects" outstanding--all in good time! ;)
My candle sticks, which I actually want to do a full post on, also turned out nicely. When Jason came home and found our garage-turned-sweat-shop, he just shook his head and said, "Nothing's safe from you!" ::shrug:: Oh well!
My sewing machine is
finally
threaded and I even sewed my first simple stitch! Let's just say, Singer made their instruction manual a lot harder than it needed to be! The "Singer Simple Sewing Machine" is not the "simplest machine ever made" as they claim it to be. Just for the record.
I'm hoping to make it to Home Depot today. Because we spent all day Saturday with my parents, absolutely nothing got done around the house, so it all had to be done Sunday.
And finally, my little step stool from IKEA. I had planned to paint it, distress it, give it a little glazing, and maybe a little number love à la Layla at The Lettered Cottage, but then I noticed this: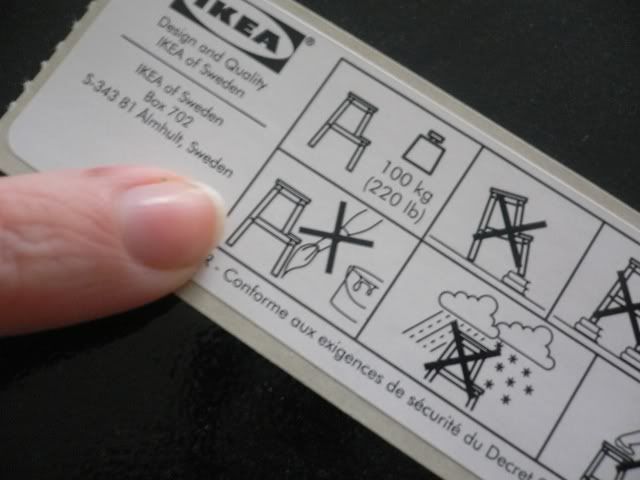 That's an actual "Do Not Paint" warning! Have you ever seen something like that?! I actually called Jason down to debate on whether or not I could ignor it. I decided to assemble it for now, and do some more research on this warning. For now it's still cute.