I've been a little on the sick side this week. It seems like the dust and dirt coming off of the boxes is knocking me down a peg or two (and my eye is all bright red again--curses)! It really makes for a difficult day as that last thing I want to do is get all dusty and dirty again. But I'm now down to about 6 boxes and I want it all gone by this weekend. This morning I'm marching my little tush over to the office and ask about my storage unit key--otherwise I'll happily go to Home Depot and buy a new lock myself!


Yesterday Hubbs and I ran onto base to start the paperwork on some of the casualties we had in our move (our flat screen TV, a candle stick from our wedding, and some cracking china). Here's the adorable little outfit I had on: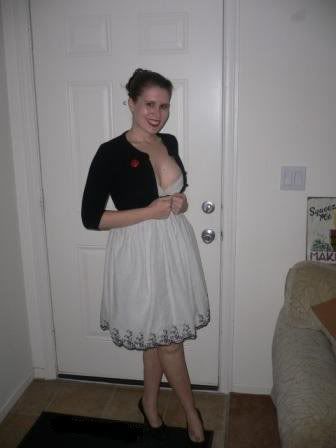 Black and white "aqua dot" dress--Bloomingdale's, Black half-cardigan--Forever 21, Red brooch--personal collection, Black satin and lace shoes--Wild Diva
Of course then I stepped outside and was smacked with 40 degree F winds, and I ran for my
one-button black coat
. It still looked cute though. Here's a (not so great) shot of my hair. I have it in a pony tail and pinned up the ends so they kind of made a waterfall effect.
Oh! The other night, right as I was about to take my bath I received a very nice surprise!
I've been looking for milk bath for about a month or so now. I found some at the Vermont Country Store, but they wanted about $14 for 17 ounces. Not too horrible, but the price just didn't feel right (especially since that was half off). So, upon discovery of
Drugstore.com
, I was very happy to find Canus Goat's Milk Foaming Bath at $7 for 16 ounces. And since its regular price was only $7.50, I was much more happy to invest in it.
A squirt and a half netted me a tub full of bubbles!
I wasn't sure what to expect, but the smell was very light...almost reminded me of Ivory soap or something similar. My skin was definitely softer, not like I had put on lotion, but not like I had just stepped out of a regular bath either. So I'm quite pleased!
I also had Hubbs set up our treadmill so I could start walking again. I'm a bit ashamed to say that I've climbed to the high point of where I think my weight should be. Just last May I was in the best shape of my life (down to a slim 118 pounds) and I'd love to get back there again. At that point, I was walking every morning for about 10-15 minutes, with the odd day of jogging. Now I'm fighting with myself to drop this bit of weight I've put on (I was actually down 6 when we first moved back out here). So this morning, I put on some Elvis and walked (and danced) my way to "Burning Love." 15 minutes a day is hardly difficult to fit in and hopefully I'll see some improvements!