So, being inspired by my blog idols like
Super Kawaii Mama
, I've decided that on days I'm feeling exceptionally cute (or proud of my outfits) I'm going to try and snap a quick picture to post them here. Not only will it help with my look-book goal, but I figure in a month or two, I can see how my sense of style is developing! And in the mean time, you can have a laugh at the blunders I make. ;0)
I was particularly proud of today's outfit! I half expected Hubbs to come home yelling, "Emer! You got some 'splaining to do!"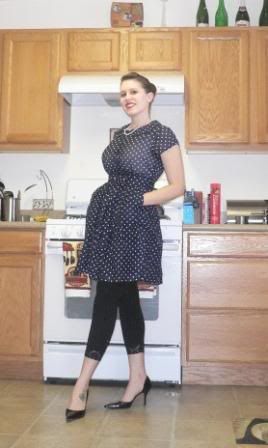 Navy polka dot dress-Forever 21, Black lace leggings-Forever21 (seeing a pattern?), Shoes-Anne Klein, Pearl necklace and earrings-Helzberg Diamonds (Christmas gift from Hubbs).

Of course, I might need a better place to start shooting my photos...hmm...