Hubbs and I went down to San Diego this weekend for a visit with the family. Of course, me being me, I forgot my camera! So, you'll have to suffer through with my grainy cell phone snapshots.


It poured the entire weekend, including up until we got home (here in the mountains it's only 35 degrees). I snapped this quick shot of me Friday night in the car as we went shopping for new chests of drawers (we sold ours, yay!).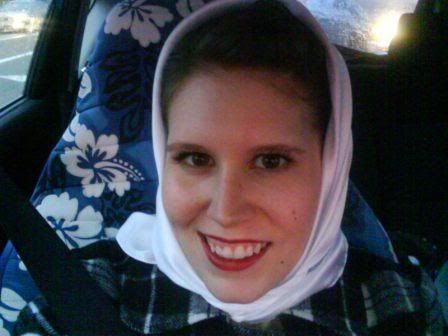 Here's the said new furniture. We chose the media chest for Hubbs and the regular chest for me. They're the perfect compact size that we need with all the moving we'll be doing in the next 12 years. We'll get them about mid-March.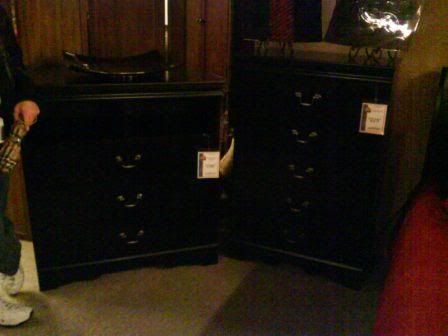 Sunday morning we braved the cloudy sky and popped down to the local swap meet for more sketches like the ones we have in our living room. The trip was a bust, but my hair was an absolute success! Unfortunately, for lack of product, the curl didn't stay as long as I would have liked.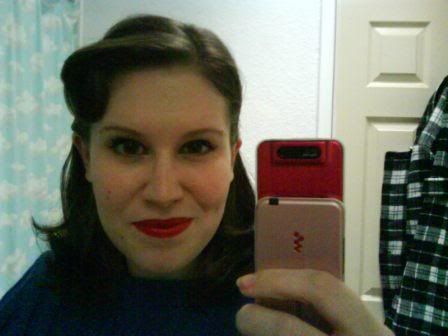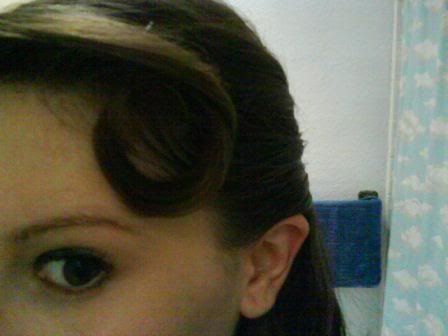 Hubbs and I have also been busy with our Valentine's Day purchases, not to mention the necessities for the events we have up and coming. For Valentine's Day, I was rewarded with the dress of my dreams, the
Crepe de Chine
dress from The J. Peterman Company (he got, and wanted, baseball cards). With its beautiful cut and glass beads I can't wait to hang it in my closet. If it gets here in time, I'll be taking it with us on our anniversary trip this weekend (more on that in a bit).
Thankfully, the shoes I chose for the Mardi Gras benefit at the end of February happen to go along with the new dress I bought (although I'd really like a different style, maybe in brown for this specific dress). I snatched these adorable t-straps off eBay.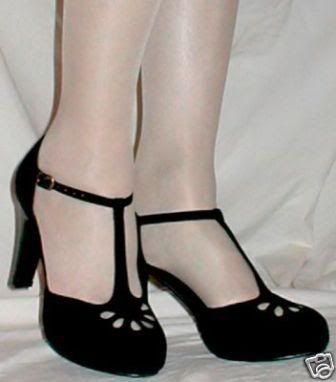 And to my delight, my blue shift dress from Etsy was waiting for me as well when we got home today. To add giddiness to my surprise, the gorgeous blue rose scarf that was tied around the mannequin's neck was included in the package! So I bought both beautiful vintage pieces for only $3 each! Can't wait until this rain goes away so I can wear it out!

Now, back to what I was saying about our anniversary: Thursday February 19 marks three whole years Jason and I have been married! To celebrate we're going to to spend the weekend in Los Angeles! We plan to dine at our favorite restaurant, The Palm, and visit Universal Studios for the day. I have no idea what I'm going to wear (I just posted a thread in the Fedora Lounge about it) seeing that there's going to be lots of walking and a very decent chance of rain. I'd love to have a pair of shoes like these from Bear Flag Republic: