Okay, so techinically this is my "uniform" and I won't wear it out, but isn't it cute? I can't tell you how happy I was to find Playtex washing gloves in pink! Such a nice change from the standard yellow. So yes, I'm thinking that this is going to start being my standard garb unless I'm going out into town. But at least if there was a fire, I could run outside and still look smashing for the evening news! ;0)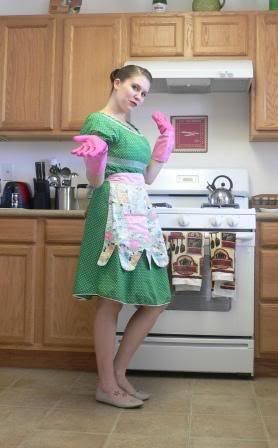 Green polka dot dress from The Gap Kids (yes, a child's dress!), Linen flats from The Gap, Multi-colored apron from my grandmother (closet thrifted), fabulous pink Playtex washing gloves.

Now, if you'll excuse me, The King is singing my song and I have dishes to do! "Just a hunka hunka burnin' love..." ::swoon:: He's so dreamy.