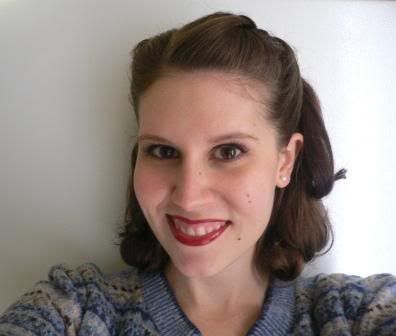 Black flutter sleeve blouse from Charlotte Russe, tan palazzo Capri's from New York & Co., knitted zip-up sweater from Anchor Blue, black tights by hue, black high heels by Anne Klein, pearl earrings from Helzburg Diamonds.


Today's outfit is titled "id crisis" because I had to have my photo take for my new military ID today! Since Jason's rank changed, the card has to reflect his new rank and end of active service (EAS) date. This morning when I drove him in, it was only thirty-one degrees--buuuurr! By the time I returned home, it had actually dropped to twenty-seven! Not wanting to wear my go-to navy jeans, I had to devise a little outfit from what I had on hand. I think it turned out pretty cute if I do say so myself! And of course, since military IDs are used more than our driver's licences I had to make sure I did my hair and make-up to a tee. I think this is the best hair-do and make-up day I've had in a long time!


I'm off to tidy up a bit; we have people coming by to look at our bedroom set tomorrow. We've been trying to sell it since before we left North Carolina, and it seems the people in California are much more interested in what we have to offer. The day after Jason's promotion we were able to sell an extra set of couches we had! Let's cross our fingers for someone to give the set a new home.

PS: I'm chalking up yesterday's look as a big fashion boo-boo. Oh well, you win some you lose some! :0)