Okay, so I've been trying to figure out if I can pull off high waist outfits. I'm pretty short (five feet two inches). I think I'm pretty hour-glass shaped, so I don't have a super long torso or legs. Be honest and tell me what you think of the high waist skirt--if it doesn't look right, it's okay, I can always wear my shirts on the outside and not tucked in.
Pink furry hoodie by Chroma Sport, white cami from Victoria's Secret, black and white houndstooth skirt from JC Penny, black slouch boots by Mossimo, pink drop necklace from Target.
I also did a messy pin up of my hair with a couple of (what I like to think of as) faux victory rolls. My hair is slowly growing out so some styles are still a little difficult to work with (I have too many layers in my hair). Right now I have about three or four go-to styles and hopefully once it's fixed I can broaden that.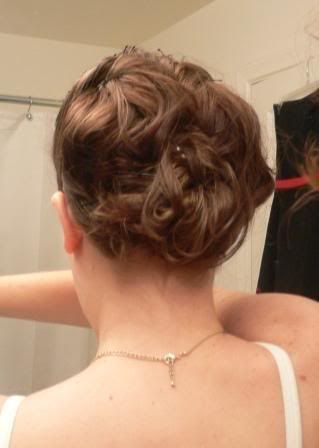 So, yey or ney regarding high waists on me?