Most of us who have thick hair with a bit of wave to it know what happens when it rains: frizz central! So today I had the lovely challenge of fashioning something around my bandanna. Sure I could have stayed in my track pants and sweater all day, (especially as it's so cold, we have Marines on the other side of the highway stranded in door due to snow!) but what husband wants to come home and find his wife wallowing in sweats? Ick. So, for your viewing pleasure, my newest look book look. I shot these in natural light so you could see just how dark it is here.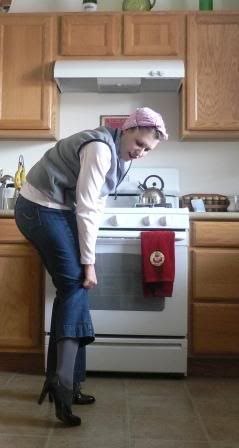 Pink bandanna from the $5 store, reversible ski vest (no label) also from the $5 store, pink shirt from Steve & Barry's, Bluewater jeans from personal collection, gray tights by Hue (scrumptiously warm!), spectator pumps by Coach.


I'm particulary proud of this little outfit now that I see it. Aside from the shoes (which were a Christmas gift from Hubbs) this entire outfit is closet thrifted. Most of the items I've had ranging from six months to eight years! I don't know that I'd go out in the bandanna; most likely I'd go for the few hats I have in my closet to avail the world from seeing my frizzy little mess. Or I'd product the hell out of my hair! ;0)
Looks like we could get some snow on this side of the highway too...


My doorbell rang as I was proof reading, and I peeked through my little peep hole to see who it was. An older couple was huddled outside trying to keep out of the wind and rain. Suspicious (I really hate door-to-door evangelism or sales) I cracked it open a bit. I can only imagine their shock as they stared at me in my Rosie the Riveter style bandanna with my red lips, retro eyeliner, and red nails staring back. The older gentleman seemed to recover first as he said, "Well! I'm glad we stopped at this house!" We all smiled knowingly at each other. Turns out they were at the wrong apartment so I sent them round the corner to the leasing office in search of their companion. I'm sure I'll be the hot topic over lunch!