My love was finally promoted to Staff Sergeant February 2, 2009 at 8:30 am. It was a small ceremony held in his classroom with my mother, father, step-father, grandma and grandpa looking on. I was spot on in the cute outfit I'd painstakingly picked out over the last month (thanks lovely readers and Fedora Lounge-ers)! The ceremony began by calling everyone to attention (my family loved that!) and then reading the promotion warrants. Then the Captain called out, "Mrs. M! Please come forward!" and I had to walk from the back of the room to the stage with my little heels click-click-clicking all the while thinking to myself,
Please don't trip, please don't trip!
My hands were shaking terribly as I pinned Jason's new military chevrons onto his collar. His Captain even gave me permission to give him a little kiss!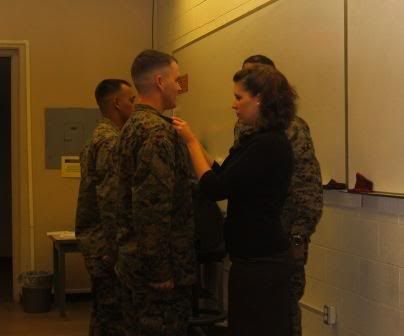 From left to right we have my step-father, my mother, Hubbs, Yours Truly, my father, my grandma, and my grandpa.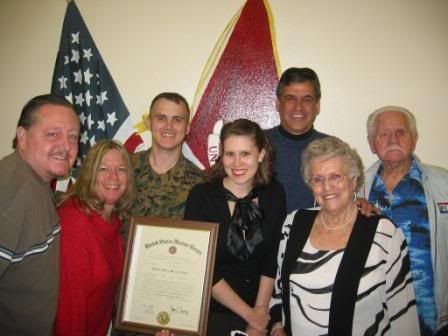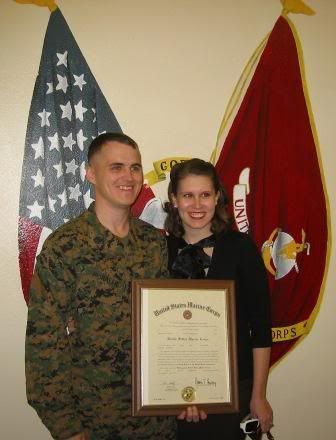 And how did the winning outfit look?
Black bow tie cardigan from Forever 21, Heather gray pencil skirt from Victoria's Secret, Back seam nylons by Leg Avenue, Spectator pumps by Coach, Potato pearl earrings from my personal collection.

Today was also my first day ever that I wore a garter belt with my hose. Quite the experience as I tried to figure out how to attach the darn things. For me, it worked out better to attach the hose to the belt before I actually put them on, and then after they were set I slipped my feet into them and arranged the belt as it needed to be. I just couldn't grasp the whole clasping-the-garter-belt-behind-my-thigh thing.

But that wasn't the only cute outfit I had going on this weekend! On Saturday my mother and step-father met us at the outlet malls near our house. I was so excited to go and shop! I think this may be one of my most favorite outfits to date! I felt a bit like Katherine Hepburn in these jeans, but I wish I could say why exactly (probably would have been more vintage if they were high waisted...).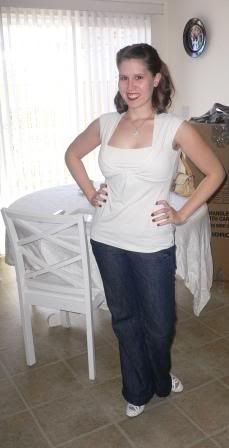 White top from Banana Republic, Navy jeans from American Eagle Outfitters, Gray cardigan from Target, White sunglasses from Target, Cherry cha-cha shoes by TUK shoes, flower necklace by Cookie Lee, Sunny yellow Coach purse.

Then on Sunday, we spent the day eating, greeting, and watching the Superbowl! My grandparents came up on Sunday so we spent some time with them as well. I was channeling summer thoughts as I donned this outfit:

Striped navy top from Banana Republic (bought on Saturday), Linen Capri's from Maurice's, Linen flats from The Gap (also bought on Saturday), Bow tie necklace by Swarovski Crystal, watch by Guess (you guessed it! Bought on Saturday).
I was trying to mimic this look, which I picked up from
50s Gal
.

Overall it was an amazing three days but I am thoroughly exhausted!! Having company also threw off just about every routine I had going. I haven't done the dishes, we've eaten out about every day (bad for my diet) and I haven't walked since Friday! So while I'm glad to have my family in town, I'll be so happy to get back to normal first thing tomorrow (if I can drag my tired butt out of bed)!