(Yay! My 50th post!)

Well ladies, I've just downed a sixteen ounce glass of hot Airborne. Seems to be working; I feel less icky than yesterday but until I'm back up to speed, my walks have been temporarily suspended. I tried to walk yesterday and within about five minutes I was huffing and puffing like I'd never worked out a day in my life! ::hangs head:: So pitiful.
Not all was lost though! In between watching Elliot Stabler pound dirt bags into the ground, I was doing some "window" shopping. I've had my eye on this simple, yet pretty blue shift dress from Etsy shop
StilettoGirl Vintage
for quite some time now. At only $6 and in perfect condition, I was just waiting for her to get back to me on the hip measurements (sometimes big hips are a pain, but I love my curves,
I really do
). I even have the most perfect neck scarf to go with it!
Then, joy of joys, I found out that the base is having a Mardi Gras themed benefit auction this month! They'll serve heavy hors d'oeuvres and we'll be able to bid on things like rounds of golf, weekend getaways and the likes. The attire is "civilian festive" which means I can't get away with the floor length purple gown and peacock feathers I was envisioning (I do have to keep some eccentricities at bay for the sake of Hubbs and his career), but I was dead set on the idea of feathers. Then I found this:
Isn't she gorgeous?! From Etsy seller
Boring Sydney
this fascinator just screamed my name at the top of its lungs. The red, the black,
the feathers
! I was holding off on buying it, only because I was trying to figure out if I had something to actually go with it. I didn't want to buy the fascinator ($25--not a bad price by any means), in addition to a whole new dress (probably about $50) all for this one event. But wonder of wonders, I closet-thrifted my self!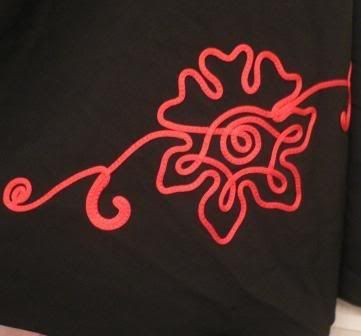 I've had this adorable tea length dress since about high school. I bought it because I loved the red tulle (I swear it's red, not orange--that's bathroom lighting for you!) and the way it fit (it hid my curves, which I wasn't as proud of back then). And when she came out of my closet, I loved her even more! Of course, I've had a few ::ahem!:: slight alterations to my body since last wearing it, so I held my breath as that zipper slid right up and into place! WOO-HOO!!

So now, lovely readers, here's my dilemma: do I
a.)
wear my back seam hose with black shoes? If so, what style? T-straps, Mary-Janes?
b.)
wear my back seam hose with red shoes? Again, if so, what style?
c.)
wear red fishnets and red shoes?
d.)
wear black fishnets and black shoes?
My only concern is looking too "costume-y" with the fishnets
and
the fascinator. I don't want to look like a chorus girl. I'm thinking of doing my hair something like this, just lots and lots of loose curls and waves:
Hope you all had fabulous days yesterday; I'm still down but I'm not out. I'm going to try to work on our boudoir a bit today and start making it more like a haven and less like a crash landing pad!